The Return of Drago VS Creed!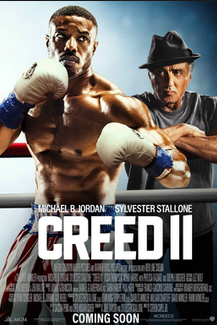 Have you guys ever been super invested into a movie series? I have and that is the  Rocky movie series. The Rocky series has been my favorite because my dad watched them when he was a kid and I always loved watching the movies with him. My favorite Rocky of all time is Rocky IV. I loved this movie a lot because he was the underdog against Ivan Drago. I enjoyed this movie because Ivan Drago has always been my favorite villain in movies because I always hated him because he killed Rocky's best friend Apollo Creed in the boxing ring. Rocky is now retired from boxing and is now a boxing trainer and he owns a restaurant. Apollo Creed's son Adonis Creed is now the main character of the series. Adonis is trying to be just like his dad. He is a boxer and soon to be world heavyweight champion.
Creed 2  starts of with a bang showing Ivan Drago son Viktor working out in the ring back in Russia.  When I saw this, I was pumped up because I knew that it would be Drago vs Creed. Adonis came out to great start by winning the heavyweight championship and soon after then asked his long time girlfriend to marry him. Everything in the world was going great for him ; then Viktor Drago challenges him to a match for the championship. As a fan of the movie series, I was super nervous because I did not want to watch what happened to Apollo Creed to happen to Adonis. Adonis takes the fight because he wants to do what his dad could never do and beat Drago and revenge his father's death as well. Adonis took this match very serious because the guy he was facing was the son of the guy that killed his father. They both trained very hard before the big matchup in New York City.
Straight from the get go, I knew who was going to win. Drago came out super strong with aggressive punches and hard hits. Adonis had to take the match against the heavyweight Russian. Creed tried to go for huge hits but none landed on Drago. He still won the match because of  disqualification as Drago punched him when he was down and was disqualified. Adonis spent several days in the hospital recovering. After he got out of the hospital, Adonis stepped away from boxing for several months to help care for his newborn daughter who was born deaf and also to think about whether he ever wanted to fight again since he was now a father.
The family moved to Los Angeles, California for better opportunities for the Adonis's wife's singing career and Adonis's boxing career. They also left because Adonis felt as if  Rocky and his relationship was going bad because he would not train him for his first fight with Drago.
After moving to Los Angeles, Adonis had to make a decision to defend his title and face someone in the ring or retire. Viktor Drago continued to issue a challenge for a rematch and Adonis finally agreed to fight him again.  Adonis took the fight because he had to show that he was the better fighter and not afraid to face Drago again. The fight was going to be in the home country of Drago in Russia. Adonis went to a remote desert with Rocky to train very similar to what Rocky did in Rocky IV when he went to a remote location to train to fight Viktor's father.
When the rematch started,  I knew it was going to be a long one. Both fighters were giving it their all. Drago was hitting Adonis with everything but Creed kept fighting back. In the middle rounds, Drago lost his stamina and Adonis went off on him with incredible hits to the head , ribs and body. In the end,  Adonis Creed Knocked Out Viktor Drago to stay champion.
Creed 2 was everything I was looking for and more. It told a great story about Creed vs Drago . I enjoyed it a lot because I wanted Creed to win super bad because I hate everyone with the last name Drago in the movies. I hope everyone goes and sees the movie because it is amazing and really takes the viewer back like watching Rocky vs Drago.