Purdue Basketball 2019 = Great
The college basketball season is wrapping up and my favorite team The Purdue Boilmakers will get at least a part of their conference championship. They did not have huge expectations for this year after losing four of their best five players because they graduated. Those key players where P.J. Thompson, Vincent Edwards, Isaac Haas, and three point marksman Dakota Mathias. This meant a lot of new players had to step up this year for a good season.
The season did not start the way they wanted. Yes, they started the year 5-0 but then they lost to Virginia Tech, Florida State, Michigan, Texas and Notre Dame. The Boilermakers started the year with a record of 7-5. It was very sad being a Purdue fan because the year before we were dominant with a amazing record of 30-7. Each game I felt Purdue had a chance with four great seniors and sophomore star Carsen Edwards.
After the lost to Notre Dame, the Boilermakers finally kicked it in gear. The last 18 games Purdue has had a record of 15-3 with big wins against Iowa, Wisconsin, Indiana, Michigan State and Maryland. With these recent games, Purdue has locked up a spot in the NCAA tournament and maybe a top 3 seed . Purdue has set themselves up for a great run in the tournament.
There are multiple reasons that the Boilermakers have played well during this stretch of games. One of the reasons is Purdue is not always relying on Carsen Edwards to score every time down the court. At the beginning of the season Purdue's only offense was Edwards so teams prepared to only pay attention to him because he was the only threat on offense. However, as of late, they have had other players step up. One of them is Nojel Eastern. He is a 6'6 point guard that plays terrific defense and drives into the lane well. Eastern is not your normal point guard because of his size and that he rebounds the ball really well for his position.  He can't really hit three pointers well but has improved his free throws so if they foul him he can go knock down some easy ones. The other guys that have stepped up are Ryan Cline, Matt Harms, Trevion Williams and one of the fan favorites Grady Eifert, a 6'6 forward who plays his heart out in every single game in order for Purdue to win. Eifert and Cline will be graduating after this year and Purdue will miss them a lot.
Even will the lastest loss on Tuesday night to the Minnesota Golden Gophers, they still have a great shot to win the Big Ten. My prediction for Purdue's tournament run is that they make it to the Sweet Sixteen or Elite Eight then be knocked out. The reason they can't go to the final four in my opinion is fire power. This means that they don't have guys that can score and be stars in March for them. Even with that, this season has been super fun to watch as a fan and I can't wait to see what they do in the tournament and next year.
View Comments (3)
About the Contributor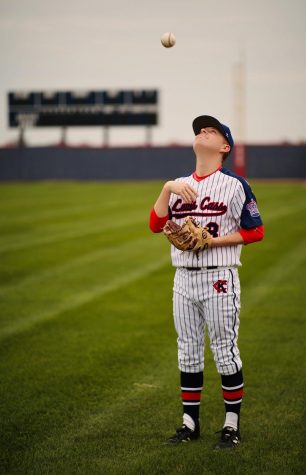 Jack Salyers, Chief Exec.