Spring Break With My Best Friend
Hang on for a minute...we're trying to find some more stories you might like.
A lot of people have that one person in their life who talks everyday and just are with each other almost 24/7 usually dream of vacationing together for holidays. Even though it may just be a fantasy, you plan it as if it'll happen next week and get all giddy and start thinking of outfits you would wear. It's exciting to think about and even more exciting to plan it whether it will really happen or not. For me, the dream came to a reality. I went to Florida with one of my best friends, Carley McCloskey, and her family for the first week of spring break.
Carley had invited me to their family vacation to Florida and her little brother Cole McCloskey also invited a close friend, Braxton Armstrong, to join as well. We drove to Madeira Beach, Florida, instead of flying like a lot of other families usually do. We left right after school Friday to start our long 17-18 hour journey and boy was my butt numb. When we first started our long drive, Carley and I were in the middle seat which had the snacks and a lot of leg space, whereas the boys were in the back for a majority of the ride which did not have as much space as we did. Lots of rest stops and gas stations were at our availability so we could stretch our legs and switch seats with the boys every once in a while. For those who know me, you will know that I am very short and have super short legs, so the back seat was fine for me, but it was a whole different story for long legged Braxton Armstrong and Carley McCloskey.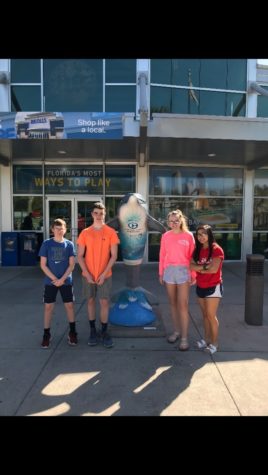 The way there was quiet and everyone kept to themselves most of the time because we hadn't gotten used to it being all of us together just quite yet. Once we reached the beach, the first thing we did was change, and then hit the beach. We kids played spike ball and Carley and Cole's dad subbed in for Carley while she was tanning. I had never even heard of the game spike ball before Cole and Braxton had asked me if I've played. The game is actually really fun and challenging. A small mini-version of a trampoline is in the middle of an even amount of players and the ball has to hit the net and not the rim or else the point goes to the other team. More details and instructions are into the game but that is all I knew when I played and only thing I know still to do this day.
The whole week was pretty relaxed and just lots of going out on beaches and eating ice cream. We would go on drives to check out the area and the beautifully architectured condo buildings just like ours. The windows, balconies, and doors were all so unique in their own way and it was so mesmerizing to see. How the buildings were structured and built amazes me because of how different and tricky it must have been to build. We would also walk to wherever we needed to go as long as it was close by and one time we walked a mile or two just to get some ice cream! The lengths we would go for some good ice cream! I think the rolled ice cream in Florida are the tastiest.
We all had a really pleasant surprise when we found out Brooklyn Fye and her family (plus a friend she had brought along) were staying only two blocks away from us! We would walk up to each other and hang together on the beach whenever we were there at the same time. We found out that they were snorkeling Thursday, and since we were not going to an aquarium anymore, because Carley's mom saw bad reviews on it, they had asked if we wanted to come tag along and it was so fun! Everyone except Carley's dad came and we saw dolphins jumping really close to the boat on the way to the island and back. The weather was not on our side that day so the "captain" took us to an island, full of cool and variety of shells, to look for shells and sand dollars and if we wanted to we could snorkel as well near the shore. Carley found a ton of sand dollars and I only found a couple, but I am convinced she is the sand dollar finder expert. The water was really dirty and not clear at all so there was no point in snorkeling. Carley and I, Brooklyn and her friend, Laura, and Kara Riley with a friend, from Western she brought along, all met up to eat at the Daiquiri Shack and the food there was so good. The experience was so fun and Carley and I didn't feel left out for being sophomores among seniors.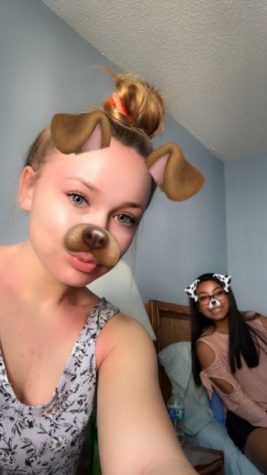 I know that I had a blast in Florida and had so much fun playing different games in the pool with the boys and walking everywhere and anywhere with Carley. It was such a challenge figuring out what games to play, but we still had fun either way. The beach and water were so beautiful and the condo we stayed in was very nice and comfy. If anyone needs an idea to go to for any future spring break vacations or just any holiday vacay place, I definitely recommend Madeira Beach, Florida, and going with a friend makes the whole experience so much more fun in my opinion. After the whole trip, on our way back we were playing car games such as the "abc" game most of the ride, which is when everyone takes a turn trying to find a sign that starts with the letter they are on in alphabetical order, as well as other games like guess who the singer/song name is in the radio.