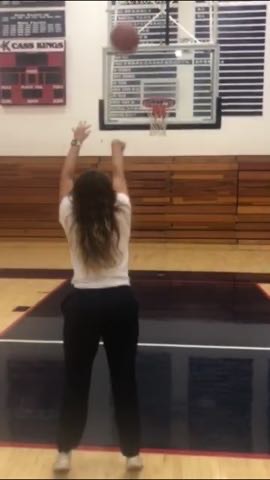 Shooting hoops is a great way to raise money. On Friday the 8th, the high school girls' basketball team had a little free throw shootout after school during their practice for a fundraiser. Amor, head coach of girls high school team, has had experience in this fundraiser after doing this for several years at his previous school. "It is a great way to raise funds and it does not involve selling stuff." Each girl shot 100 free throws each while the coaches counted and kept track of it all. According to Coach Amor, the girls have been collecting pledges from friends and family consisting of a nickel, quarter, a dollar per make, or just a flat amount. "Each girl will bring in a different amount of money depending on their donation and also how many free throws they make."
 Paxtyn Hicks, a junior, shot the most free throws with a whopping 73 throws out of 100. Her goal was originally 70 but she exceeded that by three. Hicks said she practiced beforehand which ultimately resulted in her scoring the most. "I was a little nervous about shooting free throws in front of everyone because I felt very pressured." Hicks also stated that she was aiming to shoot the most but was hesitant about the idea because the team has some good shooters.
Coach Amor had also challenged the staff members to donate one cent for every shot each player made for the Penny Teacher Challenge. The basketball team consists of fourteen girls so, as Amor said, "that would be 1,400 makes which would be $14 for each staff member that pledged. If we only shoot 50%, 700 makes will bring in $7 per staff member." Coach Amor stated that he was very happy and thankful for the staff members eagerness to help: for as of Thursday, forty four staff members pledged to donate a penny per make. "The Lewis Cass Family have been incredibly supportive," he added.
As of the season, Amor believes that this year will be unique for the Lady Kings. Since this is the first year Amor has been with Cass, and being a new coach for the girls, the season will be a different environment for the girls. Coach Amor had been the Head Coach at John Glenn High School for eight years before coming to Lewis Cass High School and had a whopping 129 wins with just 59 losses. Amor and his family had an opportunity to move closer with the rest of his family and seized it. He is also excited for the season for they are coming off a 1-21 season with no returning seniors.
 "My coaching staff and I have 2 years with the same group of kids to grow, improve, and make an impact on. We have a young group that come to practice every day eager to learn and are excited to improve." According to Amor, the Juniors have been doing an excellent job in leading the team. "They display great leadership and have truly brought into the new coach and system of basketball." 
"I have no idea what this season will bring as far as wins or losses, but I do know that we are going to be competitive. We are going to work hard, and we are going to be fun to watch and cheer for." – Kyle Amor