The Preparation
I'm putting a brave face on but inside my guts feel twisted and my heart is about to jump out of my chest. What is stressing me out might seem silly to others but is a worrisome matter for me: I procrastinated and had to find a dress last minute. The only matter I cared about at that moment was finding a dress, and if nothing else went well, then it would just be a fun little mishap…and that is exactly what happened: fun little mishaps. To get the full story, let's rewind a couple months back shall we. 
The origin of the story is during the first semester of this year while football season was going on. From now to then is a pretty long time ago. I knew the dance would be coming along, but I kept telling myself that I still had months until I needed to start getting "stuff" together. McKayla Thompson, a senior and one of my best friends, had been working her butt off trying to make the dance preparations and all, so I offered to help and tried calling different venues to see if any reservations were possible. Some months passed and then we had a meeting saying that we would start selling tickets two weeks prior to the dance. In my head, I was thinking that I still had at least two months: it was late January. I did not understand the concept of SADD being only a week away until it was too late. The thought of getting a dress completely blew past my mind. I stayed calm though..for the most part.
My wonderful friends all attempted to help me find a dress and even lent me dresses to try on. None of which were to my liking or did not fit me correctly. It sure was a bad time to be picky. As the saying goes, beggars can't be choosers: but I was one choosy beggar. Finally, the day before SADD had arrived and I still did not have anything to wear to the dance. I joked with a friend of mine that I would just go wearing rain boots, sweatpants, and a t-shirt. Y'all think I'm kidding but I was very close to following through with it, too close. I was so stressed to the point that I had to call off work and go dress shopping with my mom in Lafayette. Luckily, we found two pretty cute dresses for sale and took it home. Now the only decision I had left was to choose between the two. 
Now I know what you all may be thinking, "Why is she acting so dramatic over a silly dance and a gosh darn dress?" In my opinion, to have a good time, one must feel confident; and I just did not feel that in any of the ones I had tried on previously. When the day of SADD finally arrived, I still had not gone to Walmart to get some essential needs: such as foundation, eyelashes (which we did not even use), and different materials my mom needed me to get. Once I got back, my friends were already at my house: that's right, I was late to my own party. To be fair, I ran errands for them as well so it all played out well. 
Only one of us knew how to curl hair so we took some time getting ready. My mom made us pizza so we piled a ton on a plate and darted out the door. We couldn't find any good locations for pictures, so we went over to the bridge near my house and made the best with what we had. I foolishly parked in the snow down below a hill and consequently had to climb up the little hill. Clara Licklider fell down and slid all the way back down the hill when she was so close to the top. We felt bad but could not stop laughing to help her. Afterwards, we went to Dairy Queen and stayed there for quite a while so we made it to the dance late, but we did not really care because we jammed so hard on the car ride. Finally, we made it to the dance.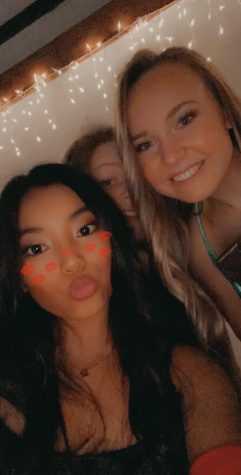 Last Saturday, on February 15, our school had our annual SADD dance. This is a formal dance and formed together by the SADD club; SADD stands for Students Against Destructive Decisions. The crowned princesses were Isabelle Woolever for Freshman, Ashlee Lindsey for Sophomore, Delaney Zeck for Juniors, and Mckayla Thompson for Seniors. No guy was crowned prince for Freshman or Sophomores but Tyler Johnson was crowned for Juniors and Carl Jay for Seniors. The people who danced had a blast, but the ones who sat around declared the dance to be boring. I, on the other hand, danced with cookies in my hand and jumped around with any friend I could find. Long story short, the preparation for SADD was kind of hectic but the end results were all worth it.