Katelyn Schreckenghaust, Junior Writer
February 25, 2019 • 1 Comment
The annual event "Walk a Mile In My Shoes" allows participants to help the homeless families in Kokomo. The event raises funds for the Kokomo Rescue Mission's Open Arms...
Brooklynn Fye, Senior Writer
March 15, 2019
*Please leave a message after the beep* BEEP Ummm… Hey, it's me again I was wondering if I have even crossed your mind, You know the way you have...
November 26, 2018
October 31, 2018
May 8, 2017
Dixon Collins, Senior Writer
March 17, 2019 • No Comments
     After a long season, the NCAA basketball tournament is approaching with selection Sunday being this Sunday, March 17th.      With many teams who locked in their...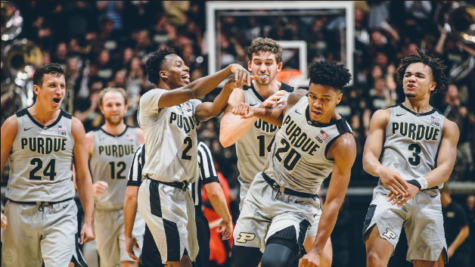 Jack Salyers, Freshman Writer.
March 7, 2019 • 3 Comments
The college basketball season is wrapping up and my favorite team The Purdue Boilmakers will get at least a part of their conference championship. They did not have huge expectations...
Katelyn Schreckenghaust, Junior Writer
February 27, 2019 • 6 Comments
Numerous movies have been recreated as a newer version of the original film. Some might recognize A Star is Born as one of these movies. Bradley Cooper directed and starred...
Ashli Key, Senior Editor
March 14, 2019 • 1 Comment
"Cousins are people that are ready-made friends. You have laughs with them and remember good times from a young age. You have fights with them, but you always know you love...