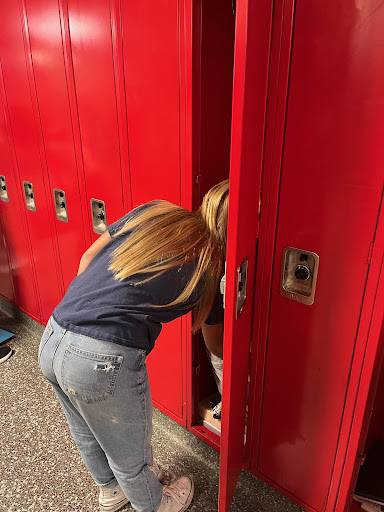 Students should be allowed to bring backpacks to classes because that will prevent the students from being tardy, lockers could be jammed, and they make the classroom cleaner. These are all of our reasons why students should bring their backpacks into classes.      The students won't be late for class because they would have already had their backpacks. Students should be trusted to not bring anything that might harm others. The school also can use metal detectors by purchasing them on an official website.  The metal detectors can be just like the ones from the airports ( the small ones).The metal detectors would scan for dangerous weapons.The students would have easier access to class work. They will also not have to go to their lockers in between classes.
The next reason is that the students' lockers could get jammed because of their backpacks. Their backpacks could be too big for their locker and could get stuck in between the locker door and the locker. This could make them even more tardy than before. People with after school activities need an extra backpack which can add to the full locker. This is one of the reasons why we should bring backpacks to school.
The last reason is that the classrooms will be more tidy, the student could slide the backpacks under their desks. The students can line their backpacks against the wall or along the desks. They could keep their school things in their backpacks rather than keeping their things on their desk. The students have to get up and take away class time to get items from their locker and that will distract the class. The students will also not forget things in their lockers like a pencil. 
These are all great reasons why we should bring our backpacks into classes. They include, preventing students from being tardy, lockers could be jammed, and it makes the classroom cleaner.
QUOTES
Cameron Cohee-"We should have backpacks because it would allow more time for students to learn in class since they won't have time to run to their lockers and back to class."
Hunter Craig- "I think backpacks should be allowed in class because students wouldn't forget anything because it would be in  their bag and they are convenient to have and carry around. 
Emilynn Rowe– "I think we should bring our backpacks into class because it would be more helpful. Everything we need will be in our bag instead of going all the way out to our locker and getting it."
Lynnsey Ramer- "Backpacks should be allowed in our class because some people can't open their lockers to get their stuff for class. Another reason is that backpacks are very useful for some people."
Mrs. Maloy: "I like that there are no bags this year. I do not have to worry about students having as many distractions or students tripping over each other's bags when we are moving throughout the classroom."
Trinity Singleton- "I think backpacks should be allowed in class because it makes it easier for students to get their stuff and so that way they don't have to run to their lockers all the time."
Elleney Bridges-" I think backpacks should be allowed in the classes because it is easier to get things out for classes and when people go to their lockers they could be late to the classes."
Story continues below advertisement