Fall Break With My Go To's
Most people if not everyone loves vacation and to have a break from working and just life. For us, fall break was just last week and everyone is wishing that it was longer or never ended. We have to sleep earlier, wake up earlier, and actually do stuff throughout the day. Now all we can do is take everyday one by one and count down until our next break. What I did during the week was a very memorable one.
On Thursday, the day before fall break started, I went home with Olivia Shaffer. We had an amazing time and shared numerous amounts of laughs. I was originally supposed to spend just one night and a day but after much persuasion, we bumped it up to a whopping three nights and four days. Things were a little unexpected and forgetfulness was present, so the party was cut short by a day. We were supposed to go to McClure's Orchard and take pictures but a Cross-Country meet was at the same day so I had to go.
Fall is a beautiful season and the weather is sometimes not too cold or too hot. Fall outfits are my favorite thing about the season to be truthfully honest. Other than fall being a pretty season, it is also "spooky szn." So when I was over at Shaff's house, we watched plenty of scary movies to keep me up the whole night. We both slept on the same bunk, on opposite sides, for we were too scared to sleep alone. I also ate delicious food while I was staying at the Shaffer Household. We had lots of laughs and made many memories together. We made many inside jokes that I shall not reveal to anyone. One thing I will always remember is how we got each other's back by providing a flashlight in the dark room to take good selfies.
As well as spending a little over a weekend with my best friend during fall break, I also spent a night out with my other two absolute best friends: Kelsey Roller and Carley McCloskey. We jumped at Gravity for an hour and met new friends. We then afterwards grabbed a bite at Chipotle just right next door. We laughed a ton while jumping and as we ate. I laughed so hard I was convinced I had a 6-pack afterwards. Once we were finished with our food, we took a stroll around the mall and bought matching bracelets, scrunchies, and rings. Kelsey got a cool little supply of blood for her cool makeup. Later on in the week, my family and I went to Carmel to shop, which was unsuccessful because we didn't find anything good enough, and then went to Fort Wayne the next day and was successful that time because we got cute clothes. We went to our favorite restaurant and ate until we felt so bloated we couldn't walk.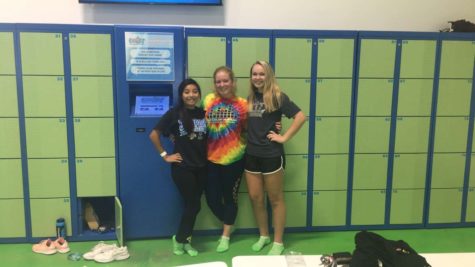 All in all, fall break was a success for me and I would not trade my best friends for anything in the world. I truly do not know what I would do without my best friends to help me through the torture of school everyday. They don't only make school better, but they help me through the many struggles of swim season. These three girls, and a couple other close friends, are the people I tell almost everything to and help me when I overthink or over-react to anything or everything. They make me laugh when I don't really feel like laughing and we have never fought or made each other cry..woop woop go us! So overall, I had fun with my friends and family this week.
View Comments (7)