Going Back Home: Part 1
Vacations and holidays are easily a favorite for everyone. We all just want a break from work or school or just life in general. Honestly, school, life, work, and everything is just so stressful, and for us to really work to our best potential is to take breaks to freshen ourselves. A quote a good friend of mine showed me really hit home…literally. "Home is Where Your Story Begins." This is going to be a pretty long story but it is worth the read, I promise.
Usually, everytime my family travels to see our family (which is only after every few years). Someone or a group of people greet us at the airport with flowers and lots of hugs. This time, since it was a family reunion and almost everyone was already in Tamenglong, Imphal, Manipur, we did not really have the usual people or anyone greet us and it just did not feel the same. We spent a day and a night in Delhi after an eight-hour flight followed by a six hour layover in Germany and another eight hour flight to land in Kolkata, New Delhi. A family lived in Delhi whom we knew and the father came to America and stayed in our home not too long ago. They welcomed us and we had fun bonding with the daughters simply by just chatting and watching movies that we all liked. After staying at their house, we returned to the airport to go to Imphal, Manipur. The flight was only two hours this time and every flight my sister and I were asleep almost the whole way there and back. Once we reached our destination, we had to wait for our family members to come get us, and once they finally came, we went to my cousin's house. After reaching, we found out their dad came to get us too and had a bouquet of flowers for each of us, not knowing we were already at their house.
My family and I went up to our final destination in a car whereas my cousin and her parents went up in a helicopter. Her brother came to America with us last time to study here and he unfortunately couldn't come to the big Christmas family reunion with us. The car ride was five hours long and the roads were the rockiest and narrowest roads ever. Our small town is at the very top of the mountain so it is a long and tiring journey. Not only long but it is also a tad dangerous because of how narrow the roads are and how high up the mountain is that cars coming from both directions have to communicate with their horns pretty much. Everytime we went up and down the mountain, someone always threw up but luckily not this time. Our family greeted us when we finally reached and everyone was beyond ecstatic because it has been so long since we have all seen each other.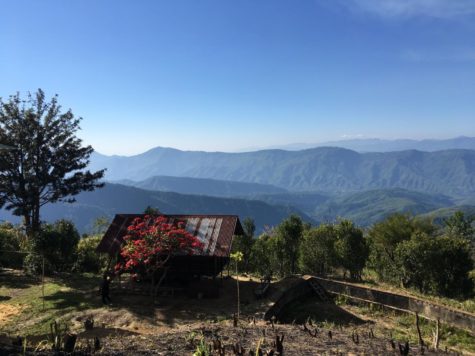 Throughout our whole trip we were invited to eat in so many different people's houses and had many traditional dances around bonfires. Traditional dances aren't really like the savage or weird way people think it is, but it is more of just Simon says. The person leading the dance circle is the one who everyone looks at for the next moves to do. Followed by lots of singing and people banging on hand-made drums.
Go To Part 2: "Going Back Home" 
Leave a Comment