Team Brent vs Team C.J
With the fall season unbound us, the Lewis Cass Boys Tennis Team is gearing up for the Logansport Sectionals, but before that can start, we need to have our senior night for Brent Johnson and C.J Burrous tonight at Engles Court. Both of these young men have played all four years and deserve an amazing night just for them. 
The traditional way of a senior night is playing a different school and still having the night for the seniors by talking about them and giving them gifts. For tennis we spice it up a little bit having a team versus team match up with both seniors picking their teams in a draft situation. The tennis program switched it up two seasons ago when it was girls season so they made the switch to the boys as well. The reason was to have a more relaxed type of night to spend with my fellow teammates and also your family while their is still tennis being played.
This year it will be Team Brent versus Team C.J. Both seniors made their picks Saturday morning after practice and the players got noticed by their senior or just by other people talking about it. I was drafted by Team Brent. Both teams had practice Tuesday with both captains being the coaches for that practice. It was a very entertaining practice with both seniors having two way different practices; C.J going with a real style practice with his players going through drills like we would in practice and Brent going with a more relaxed type of practice with cracking jokes and making sure his players had an adequate amount of fun and laughter.  With these two different coaching styles, they both had two different draft strategies as well. Brent going more on singles and C.J more on doubles. While during all these games are all going, on Coach Skarda will be on the grill, making burgers and hot dogs so the food should not disappoint. With the teams now below my prediction is Team Brent in a close one decided by a couple matches or two.
The night should be fun and have an ample amount of great tennis. Hopefully it's close matchup with TEAM BRENT winning the title over C.J, so I can win. I'm very excited for tonight's game and for the whole night in general. Before leaving Engles Courts, I want to say thank you C.J and Brent for being great seniors and even better teammates for these past two years. 
Team Brent:           Team C.J:
Brent Johnson       C.J Burrous
Jack Salyers            Jack Miller
Ethan Johnson      Josh Packerd
Gannon Davis       David Woolever
Nolan Young         Jensen Burrous
Briceton Elligton  Dominic Gilbert
Noah Preston         Blaine Rudd
Rye Ellington        Tyler Mcgurrie
Tristan Padilla      Trent Fuller
Kate Gremspacher  Sarah Rankert
Ally Carden            Alexis Goltz
View Comments (4)
About the Contributor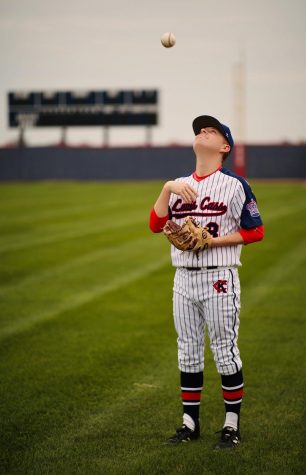 Jack Salyers, Chief Exec.