Welcoming New Basketball Coach/Teacher Kyle Johnson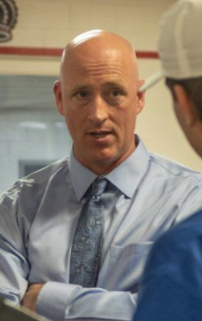 Kyle Johnson who is a native of Winamac has been hired to be the Lewis Cass boys' basketball coach. Six of his seven seasons were winning seasons, which helped him acquire his 101-62 overall record. Johnson also obtained two sectional titles in his time at Winamac and also had back-to-back 15 win seasons at one point. 
The Kings are coming off a 5-18 year and Johnson takes full responsibility to turn that around. Johnson is very excited for what the future holds here at Cass. He said, "For me it came down to the tradition, the people, and the future of the program." Johnson really likes Cass and believes he can help turn them around. He said, "I have always had an admiration of Lewis Cass from the outside looking in. Everyone has been very open and friendly and are willing to help in all areas. The school and community love their sports so I can help bring Lewis Cass back to the prominence that they formerly had." 
Johnson not only came to Cass for basketball but also teaching. He stated, "Lewis Cass has high scores in state testing showing strength educationally and great athletic traditions including several state championships across several different sports. I wanted to be a part of a school system that values education first and supports their athletes and extra-curricular activities second. I think Cass is a great fit for me because I believe the administrators are loyal, trustworthy, supportive and the community has been very welcoming for myself and son, Tyson."
His son Tyson is a junior and will play for the Kings. Tyson is a defensive-minded guard who also has good offensive skills. He will pair well in the back court along with senior's Isaac Chambers and Easton Good. This will give the Kings a three guard scoring threat. Returning to the Kings this year will be seniors Gabe Eurit, Joey Humphrey, Austin Holt, and Kaleb Lewellen who will be joined by Carson Vest and Tyler Johnson with varsity experience. Garret McClelland is a speedy guard who will most likely come off the bench. The Kings also have Blaine Rudd, a great shooter that can play guard or forward. This gives Cass a team with several upperclassmen with several underclassmen that could also make an impact. 
Lewis Cass have also hired a JV coach Eric Branz, who went 59-100 as a head coach himself. He definitely has been better than his record shows as he has not found a steady spot on a single team. Branz was 47-67 in five years as a head coach at South Central. Branz later took a job at Yorktown and led them to seven more wins prior to his hire.
It seems as Johnson and Branz are both good fits with Cass. Johnson has a tremendous record and can definitely lead Cass back in the right direction. Branz will be an excellent JV coach as well because he has prior experience being a head coach. After the hires athletic director Greg Marschand said, "Coach Johnson and Coach Branz will be a tremendous blessing to Lewis Cass and our entire community." Marschand also had more to say about Johnson. He later stated, "I had watched Coach Johnson when he coached at Winamac. I have always been impressed with his character, integrity and his work ethic. I am thrilled that he is our Head Basketball Coach."
The Kings have a great program which will continue to grow. Cass has a great group of upperclassmen as well as a freshman class that has only lost six games in the last two years. This freshman class can help lead towards the future as well. This is why many believe that Cass has a great chance at grabbing a sectional title or two in the next few years.