Thailand adventure features many unforgettable firsts
    Many lifetime firsts punctuated my recent adventure to Thailand, a daily reminder that I was not in Indiana but in a country with a historic past and an ever-evolving future.
    First, unforgettable first- a thrilling car ride through Bangkok- did I say thrilling? How about seat gripping terror? I have driven in many of America's most difficult cities: Washington D.C., New York City, Chicago, Los Angeles, San Francisco, yet nothing could compare with my first experience as a passenger in Bangkok's traffic. My wife and I were picked up at the airport by our daughter-in-law's brother Saryn; he weaved his way through the perpetual headache with ease as three lanes of traffic became at least six as motorcyclists whipped in and out of lanes speeding to their destinations. Car and truck drivers would switch lanes without notice. If I had rented a car, I might still be at the airport.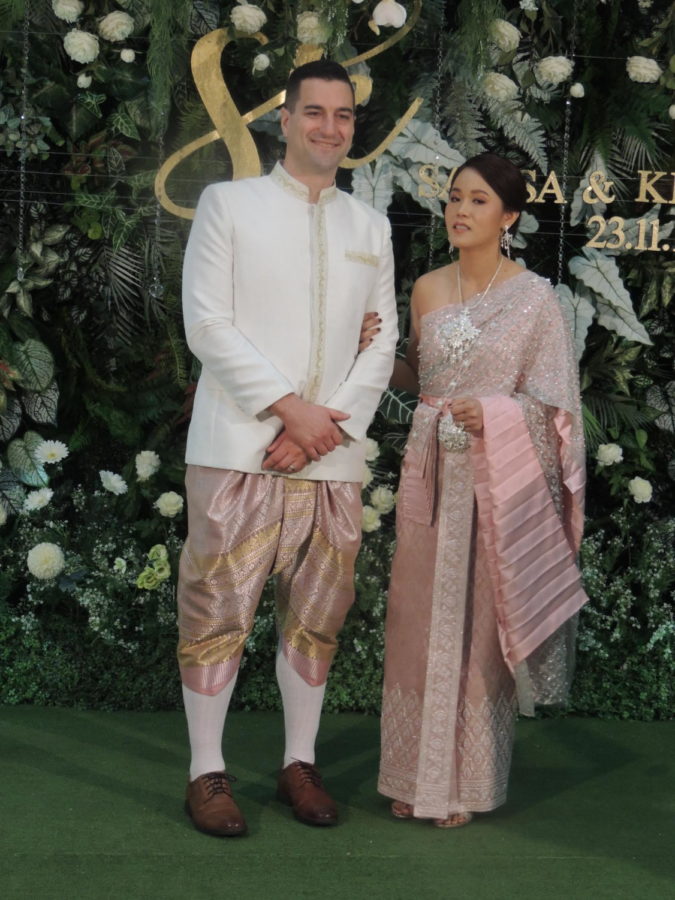 My next first occurred when we arrived at Doem Bang Nang Buat, a district in the northern part of Suphan Buri Province.  What is the first priority after traveling 22 hours by jet to an exotic land?  An authentic Thai massage of course! We had to calm down to prepare for our son Ken and daughter-in-law Salisa's wedding reception. They had married in Illinois in March, but since her parents could not make it, they arranged a reception for the generous community that wanted to congratulate the young couple. Nothing could compare to this: a 10-course meal with a band playing, group and individual photos taken with all of the 300+ invited guests, and a continuous vibe of goodwill. I will always remember that day.
    The next five days were packed with new firsts: a Thai Catholic Church mass became memorable from the little kids' reactions to the service as several crawled up the aisle before sprinting to the front of the church to receive communion; a visit to our first Buddhist temple, an elaborate site located next to a river, set the tone for several Buddhist temples including one that was literally carved out from the side of a mountain. To learn as much as we could in a short time, Salisa drove us around her province exploring a museum, a water buffalo farm, something I was not prepared to see, and an open market that seemed to have anything imaginable for sale. We actually bought our first souvenirs: Thai Lego sets for our grandchildren. 
      After a night at a lake resort, we traveled to Lopburi, one of Thailand's oldest cities with a living museum of ancient Angkor-style temples. Nicknamed the city of monkeys, Lopburi has been overrun by thousands of macaques. When we entered the temple grounds, an officer gave us a stick and told us to remove our glasses since the monkeys would take them if we were not careful. All went well until we left the temple gates as a monkey jumped on my wife's back. Her scream sent the monkey jumping onto my back as I stared face-to-face with the playful monkey who happily went on his way-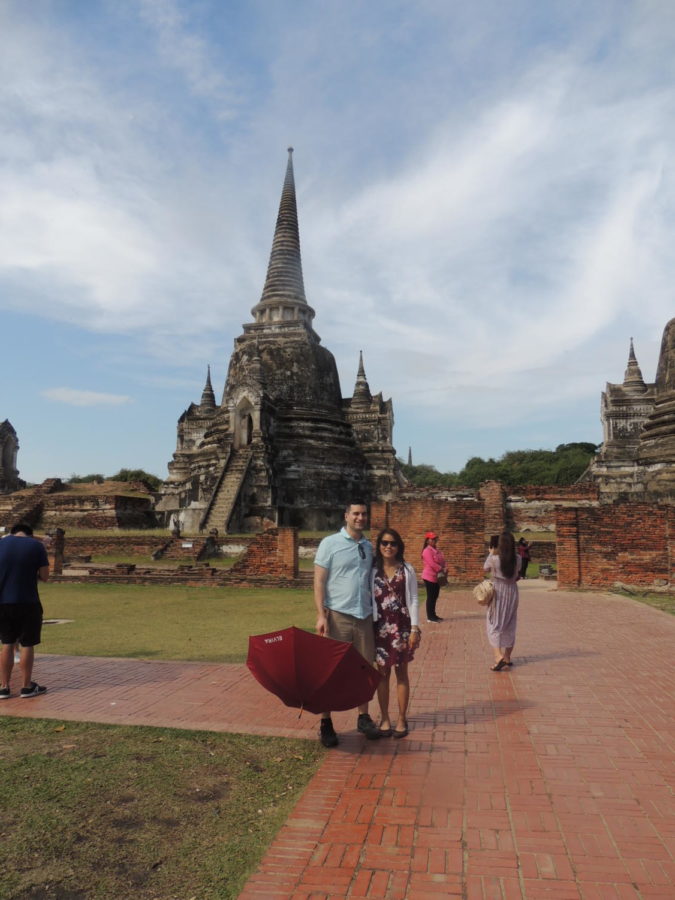 probably chuckling at the echoing scream. Ayutthaya, founded in 1351,  became the next destination as we marveled at the temples and history of the early capital of Siam that was defeated by invaders that chopped off the Buddha statue heads, many of which are lying in the place where they fell centuries ago.
      Our next first adventure occurred on the island of Phuket, a favorite tourist location for world-wide travelers indicated by a huge cruise ship anchored in its harbor. Again, new firsts and sights happened around every corner, but one of the coolest experiences happened an hour and 45 minutes out into the Indian Ocean: snorkeling. When Ken said we would take a boat ride to the snorkeling destination, I envisioned a nice, comforting excursion. When the captain stomped on the accelerator and took us to maximum speed seconds later, I forgot about thoughts of a tranquil ride.
        Where we snorkeled was close to the stunning islands used in the James Bond movie The Man With The Golden Gun. I did not see any guns, but I did see hundreds of colorful fish up close in the sparkling clean water as I easily maneuvered over the multicolored coral reefs.  The serenity of two 45 minute swims was left behind as we went back to Phuket. The wind had shifted and waves poured over the bow of the speedboat powered by four 250 horsepower Suzuki engines. If you have ever watched Forrest Gump, remember the Lieutenant Dan hurricane scene and you can envision the driving waves that engulfed us throughout the 105-minute thrill ride.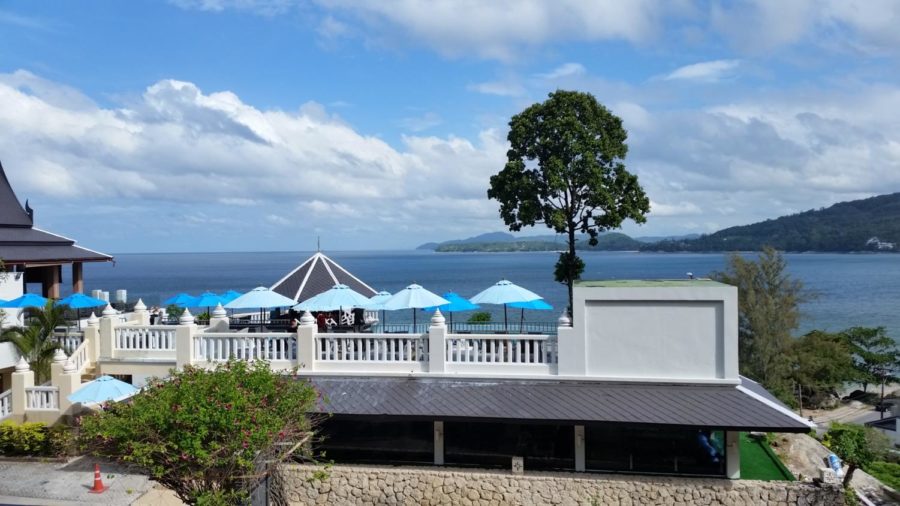 After drying off after the "boat ride," our driver took us back to Kamala Resort and Spa at Kamala Beach, a five-star hotel that overlooks the Phuket bay. We finished this exhausting but memorable day with dinner at a fancy restaurant with servers standing nearby to assist in anything we needed. When my wife dropped her fork, the server was so quick he nearly had the utensil replaced before it hit the floor. This kind of service occurred everywhere as the Thai people eagerly assist anyone in need.
        Another first happened the next day as we visited the fresh fish market. We were asked what we wanted and Rita said lobster. Smith, Salisa's brother, grabbed a live lobster out of a vendor's basket and gave it to the worker behind the counter; we went across the street where the worker took the lobster to be cooked. I cannot think of anything being more fresh than that! We could not just have fresh lobster. Oysters, clams, and several other dishes were prepared for us. This might seem excessive, but all of our meals consisted of several dishes of authentic Thai food that our hosts wanted us to try. Needless to say, although we had plenty of exercise on this trip, losing weight would not be one of the benefits.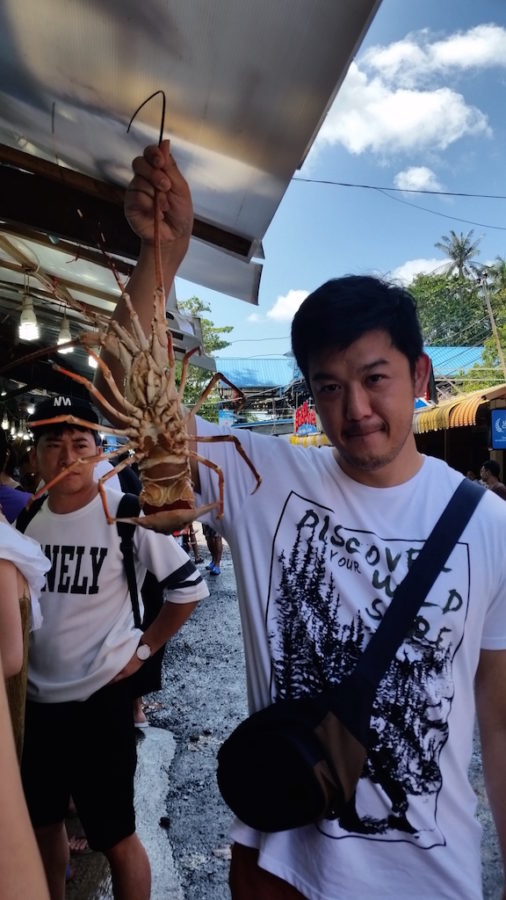 When a storm comes and rains hard for 40 minutes, what does that do to the plans for the day? The obvious answer: visit a Cat Cafe! This presented another fist. The full grown and immaculately groomed meows as they are called were so well behaved and fun to pet that we actually stayed longer than expected, and we had cake with the experience. Yes, all patrons not only get to pet the cats, but they also get cake!
        Thai fight night became another first as we watched six fights with athletes demonstrating kicking and punching skills with speed and accuracy. Most of the five-round fights were evenly battled with the one female fight the only lopsided bout. The Australian fighter relentlessly stalked her Thai opponent, an athletic looking fighter who was knocked to the mat several times before the referee stopped the onslaught.  Gambling at the fight night was not legal, so why was the local bookie immediately wanting me to bet on the fights? After all, I did not know the language, the rules, the fighters, or anything else. I guess I looked like another gambler eager to have less money in his wallet. Well, at least that night I was not.
        We did not want to leave this land of respectful people who truly seem to want to make our experience the best. However, the next day we were on our flight to Bangkok and then to Seoul, South Korea, and then back to the United States through Atlanta and Indianapolis.
         I do not have enough time to write about everything I did, but for sure I will never forget this vacation. However, I do have one last, horrible memory. What is a vacation without one final horror story? My son and I had some bad oysters on the last night. We had tried everything including oysters throughout the entire 10 days, and we became a little overconfident with our last meal, an experience we are sure to learn from as 22 hours on a jet and being sick is not something anyone would want to remember.