Crossroads Classic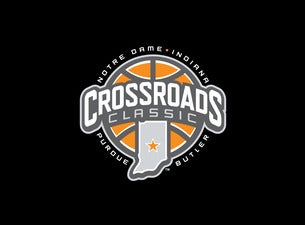 Advertisement
Hang on for a minute...we're trying to find some more stories you might like.
When anyone thinks of a great college basketball event, of course the NCAA championship tournament that is held in the spring of each year immediately comes to the mind to most people. However, in the state of Indiana most people look forward to the Crossroads Classic as well, which is held every year at Bankers Life Fieldhouse. The Crossroads Classic was started in 2011 and was the idea of then Purdue Athletic Director Morgan Burke to recreate the old Hoosier Classic, that used to be played years ago at Butler's Hinkle Fieldhouse.
The four teams that play each year in the event are Purdue, Indiana, Notre Dame and Butler. In odd numbered years Notre Dame plays Indiana and Purdue plays Butler and in the even numbered years Indiana plays Butler and Purdue plays Notre Dame. Indiana and Purdue don't  play each other in the Crossroads Classic because they are in the same conference and already play each other twice a year at a minimum and have played each other as many as three times in a season due do the Big Ten Tournament. Since Indiana and Purdue never play each other in the Crossroads Classic, that also means Notre Dame never faces off against Butler.
The Crossroads Classic is a terrific event that brings fans and teams from the four most historic Indiana college basketball programs for a terrific day filled with basketball and bragging rights. The great thing about the event is that records nor rankings seems to matter as all 4 teams bring their very best to the classic to avoid being beaten by an in-state rival. The games are always good with there only being one game decided more than 15 points in the history of the event that being Notre Dame's victory over Purdue in 2014 which was 94-63.
This year the Crossroads Classic will be held on Dec 21st. Butler will be playing Purdue in the first game and Indiana will be playing Notre Dame in the 2nd game. Butler is the only one of the 4 teams that is ranked coming into this year's Classic. The Bulldogs are ranked #18 and have an impressive 9-1 record. Purdue is 7-4 at the time of this article, but their record is deceiving as they have played very stiff competition to begin the season which has included a resounding victory over top five ranked Virginia. This should be a very good game to watch.
Indiana will face Notre Dame in the second game. Indiana has an impressive 10-1 record at the time of this article being written, but many think that Indiana's record is deceiving as the Hoosiers have not played very hard competition so far this season.  Notre Dame, on the other hand, has played a very difficult early schedule and should be ready for the Hoosiers. This should also be a great game!
In conclusion, the Crossroads Classic is a great event for those that enjoy "Hoosier Hysteria". I can't wait to watch the games next weekend. Hopefully,  someday, I will be able to go to Indianapolis and watch the games in person perhaps for one of the schools I may be attending in the future!