NFL Free agency takes on QB's
NFL free agency has finally arrived! It's especially exciting this year because the COVID-19 outbreak has all but ruined sports in America and across the world this spring.  This year NFL free agency has also been particularly exciting because of all of the quarterbacks that have been involved including Mr. Patriot Tom Brady leaving the New England Patriots after 20 years! This article will discuss some of the QB moves and the impact it will have in the NFL this upcoming season.
First, we should talk about our hometown team the Indianapolis Colts and their move. The Colts picked up long time Los Angeles Charger starting quarterback Philip Rivers on a one year 25 million dollar deal. This move in my opinion is very mediocre. Rivers is a 38 year old quarterback that is very unmobile that is pretty much a statue in the pocket. If we draft a quarterback in these years in the NFL, I will be happy with this move. Rivers would be a great mentor for a young QB due to playing in the league for 16 years and always being a top 15 quarterback during his prime years. Signing Rivers does bring a reliable quarterback to the Colts. He is a consistent thrower of the ball by always having around a mid 60% completion percentage. Also remember just two years ago he had a great year with 32 touchdowns and only 12 interceptions. I'm not a huge fan of this deal but I'm sitll super excited to see what this version of Philip Rivers will bring to the Colts. 
Next is one of the greatest of all time in Tom Brady leaving the Patriots. Brady, a six time Super Bowl champ and three time MVP, is making a team change for the first time in his career. He is leaving his home of the Patriots of 20 years for the Tampa Bay Buccaneers. Brady will be replacing Jameis Winston down in Tampa and in my personal opinion a good move. The Buccaneers offensive will be so dynamic due to bringing in Tom Brady. He will have the opportunity to throw to annual pro bowler Mike Evans and breakout star Chris Godwin. Also with the rumours of the Buccaneers getting former superstar Antonio Brown, this offensive will be much watched on TV. Brady and the Buccaneers should be a team to watch out for next year and the year after due to this amazing offensive. 
Finally, we should talk about the other notable QB signings around the league. The Carolina Panthers made it official that the Cam Newton era is over due to signing former Saints backup Teddy Bridgewater to a three year 63 million dollar deal. I believed that this move was a very underated move. Bridgewater started five games and went a perfect 5-0 with throwing nine touchdowns and only two interceptions. Bridgewater played well with Saints running back Alvin Kamera and he should do even better with Christian Mccaffrey a better catch passer out of the backfield. The last other moves were Marcus Mariota going to Las Vegas for the Raiders, and Dak Prescott, Kirk Cousins, and Drew Brees heading back to their teams. 
To conclude, the NFL had quite a bit of shake up at the quarterback position. I believe most of these moves were good for most franchises and their futures. The NFL free agency period is always a time for fans to enjoy the crazy news coming from NFL insiders. The free agency period lived up to the hype, hopefully the draft can as when in April.
View Comments (9)
About the Contributor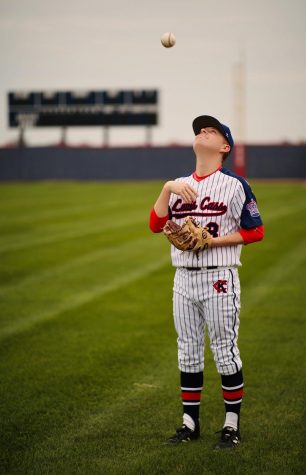 Jack Salyers, Chief Exec.