The Most Underrated Group in America
If you were a young child in the early 2010's, chances are you have heard of One Direction. Even though the band is no longer together, many are fans of the members' music. The group rose to fame through The X Factor UK, and quickly became a huge hit around the world especially with younger girls. If someone from America was asked,"What's the biggest group to come out of the UK in the past ten years?" Their answer would probably be One Direction. What if there was another huge group to come out of the UK, bigger than One Direction? They go by Little Mix, and here's why you've never heard of them.
Back tracking a little bit, in 2011 Jade Thirwall, Perrie Edwards, Jesy Nelson, and Leigh-Anne Pinnock joined The X-Factor UK in hopes of becoming individual superstars; however, they weren't able to make it on their own. Judges Gary Barlow, Louis Walsh, Tulisa, and former Destiny's Child member Kelly Rowland had originally sent the girls home, but reconsidered their decision. The judges decided to take a chance and put the four girls, who had never met before, together in a group. After receiving a second opportunity, the girls worked tirelessly to make sure their performances were effortless, and they were never in the bottom three. On December 11th, 2011, Little Mix became the first girl group to win The X-Factor UK. There is even a documentary on YouTube about their journey. 
Fast forward a few years the ladies have released six albums, several number one hits, and are known around the world. Their American label, Columbia Records, has big name artists like all the members of One Direction, Beyonce, Shakira, BTS, Katy Perry, Lil Nas X, and many more, yet for some reason Little Mix isn't known. Columbia Records has cancelled many of their U.S. tours, and they haven't given the girls the respect they deserve. In fact, the only time Little Mix has been on tour in the U.S. was with Ariana Grande on her Dangerous Woman tour back in 2016. 
The girls released their latest album, which was released back on November 6th, and that's when fans started to really notice how poorly they are promoted in America. Last month the hashtag RespectLittleMix has been circulating social media sites like Twitter, slamming Colombia Records for not giving them the credit they deserve. Not to mention the sexism they have received from their American label. In an interview with Capital FM One, member Jade Thirwall revealed that she was told to go flirt with a big time producer and advertiser. Now of course she refused, even questioning why she had to flirt to get her music on the radio. She also revealed that they had scraped two albums because they were told that no one would like them, that they shouldn't be involved with writing their own music, and because they were so new to the industry they listened to them. Now the girls have performed in America on shows like The X-Factor and America's Got Talent, both of which have the judge Simon Cowell who formed and managed One Direction and Fifth Harmony among various other famous artists and has worked with Little Mix, yet he has also given them very little attention in regards to promoting them in the U.S.
Since those days, the girls have released six albums, one of which went platinum, performed all across the world, they even had a TV show called Little Mix The Search where they chose a band to tour and open for them, and rumors about them starting their own record label had started to surface. In their song Not A Pop Song, the girls diss Simon with the lyrics,"I don't do what Simon says, get the message 'cause it's read…" More recently, since fans started slamming their record label, they finally started to get recognition in America. 
Many wonder why they have lasted this long, and the reason is because they are genuine friends. I love going onto YouTube and watching videos of them because they are just so hilarious; however, it isn't all fun and games. Each individual girl has opened up about issues that they have faced. Perrie has opened up insecurities, especially regarding a scar that she has because she had surgery on her esophagus due to the fact that she couldn't swallow anything bigger than a grain of rice. Jade has opened up about the sexism that they have all faced working in the music industry. Leigh-Anne has opened up about her feeling like she is underappreciated versus all the other members and racism, but without a doubt Jesy has struggled the most. 
Back when they were on The X-Factor UK, Jesy had started to receive nast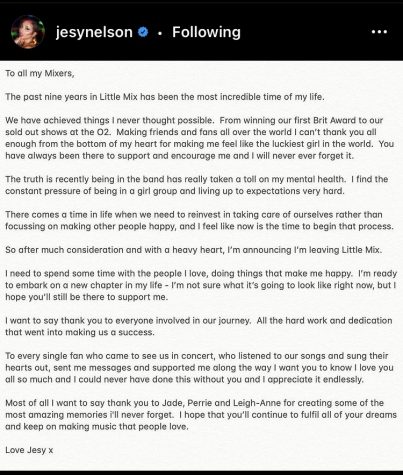 y comments about the way she looked. Due to these online bullies, her self image and mental health started to take a toll. In November of 2013, after Jesy had lost some weight, the girls went back onto The X-Factor UK to perform their song Move. The following day Katie Hopkins, a media personality, had called Jesy out and basically called her fat. It was during this time her mental health started to suffer the most. Perrie, Jade, and Leigh-Anne all had watched as they watched their bandmate and dear friend become severely depressed, and even tried to take her own life. Thanks to the help of therapy and support groups, she managed to get better. In 2019, she released a documentary on BBC One titled Odd One Out talking about the effects of bullying and how it impacted her life. She ended up winning an NTA (National Television Awards) because of it. Even though she has gotten better, recently her mental health has started to struggle again, and on December 14th, 2020, Jesy revealed that she has decided to leave the band. She stated in an Instagram post that trying to live up to the expectations of being in a group is difficult. She states that it has been taking a toll on her mental health, and she has decided to reinvest time to taking care of herself. She continues to thank Jade, Leigh-Anne, Perrie and all her fans for the past nine years, but their story is not over yet.
Due to their recently released album and several singles, Little Mix has been tied for the record of number one hits in a year with the record being twelve. Since Jesy announced her departure, their song Always Be Together which they released on their first album back in 2012, came in at number one breaking the record. Also, the following day, the hashtag 4EVER LITTLE MIX was trending worldwide on Twitter. 
Even though Jesy has decided to leave, I am still ready to fight tooth and nail for them to get their long overdue recognition. They all deserve so much more than what they're getting from America. I have a playlist on Spotify specifically for their music, and it is five hours and fifty-one minutes long. While I may be bias, their accomplishments don't lie. It is time for America to wake up and see this amazing group that is right in front of their eyes.