We Are One
One thing I look forward to every nine weeks is the choir concert I know will be at the end. Every day during seventh period I work with the other Kings Charisma students as well as Mrs. Dubois to learn music, placement, and any choreography to prepare for the concert. The concerts are always fun and go really well, however there's a lot of behind the scenes work that the audience never knows about.
This year's spring concert was on March 10, 2021. The high school choir sang three songs: Tshotsholoza, The Way You Look Tonight, and Since I Fell For You. Each song had challenges, but we persevered through them to put on one of my favorite performances I've ever done. The junior high choir also performed three songs: Oye, Dona Nobis Pacem, and Sisi Ni Moja. The 6th grade choir performed J'entends le Moulin, The Water Is Wide, and Grow Little Tree. By the song titles I'm sure you can tell the theme of this concert was forgein traditional songs. 
The King's Charisma had one traditional song and a jazz set for ISSMA (Indiana State School Music Association). Tshotsholoza is a traditional African freedom song. With upbeat drum music and a moderately fast tempo, it's hard not to feel liberated while swaying to the drum beat. This song was only performed at the concert, but it was widely liked.
The next set of songs we sang were The Way You Look Tonight and Since I Fell For You. We recorded these songs in class on Wednesday and sent them to ISSMA for a rating and comments. These are two jazz songs written and sung in English. The Way You Look Tonight is about falling in love and thinking the person is perfect. We followed this song with Since I Fell For You. This song is about being broken-hearted and not being able to move on. These two songs were meant to tell a love story.
Like I mentioned before, I personally loved the songs sung at this concert. Many of them were upbeat but had a deep meaning upon inspecting the lyrics. One of my favorite songs was performed by the junior high girls. This song was Oye, a song about children feeling ignored within their everyday lives. The girls brought this song to life and really had fun with it.
One of my favorite things about choir concerts isn't getting to sing or the rush of performing, but the feeling after. The feeling of knowing that you did it, even if you didn't know what you were doing. The feeling of knowing the nine long weeks of work that went into the songs was worth it. Being able to walk away knowing you just made a memory you would never forget. One of my favorite memories from this concert happened while we were filming for ISSMA. My heel came off while I was getting on the riser so I performed the whole set with no shoes. The choir got a good laugh out of it.
The choirs work hard to get their songs perfected, but none of it would be possible without our wonderful director Mrs. Dubois. Mrs. Dubois works so hard to push us to be the best we possibly can. She doesn't have to do all the things she does for us, like break down every song to make it easier for us to learn or teach us how to make our vowels sound better. She puts so much effort into making us the best we can be, so the concert would never have been possible without her.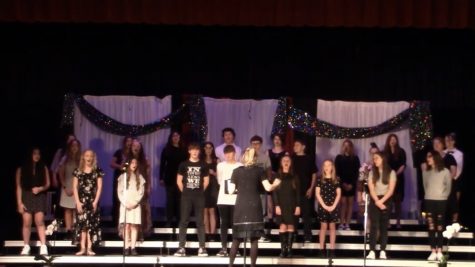 Junior High Choir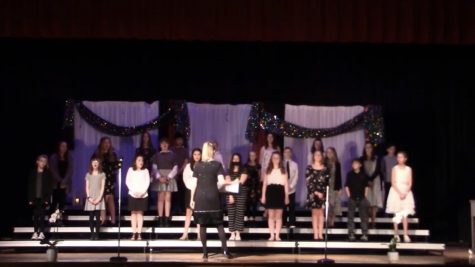 6th Grade Choir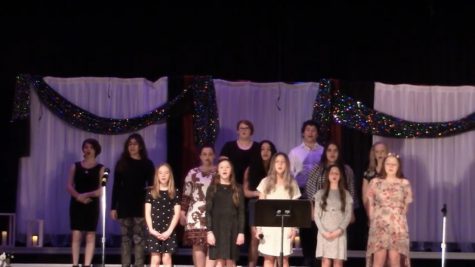 Junior High ISSMA Ensemble
Choir concerts seem simple and easy, but they actually take a lot of work. We prep for weeks on end and never feel like we've done enough. However we always pull it off. This concert was about traditional music, and my personal favorite performance was Oye. And while choir concerts are one of the most fun things to do, it would never be possible without Mrs. Dubois.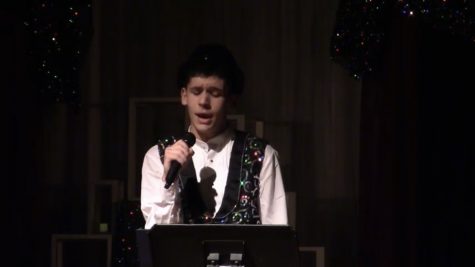 Derek Landis performing his ISSMA solo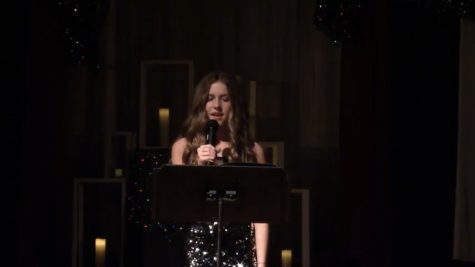 Kennedy Thorpe performing her ISSMA solo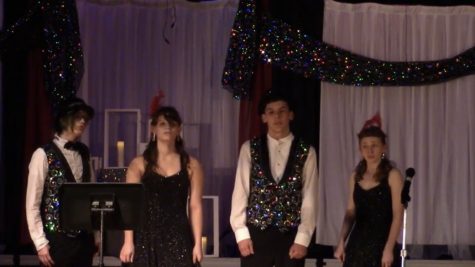 ISSMA quartet performing (left to right: Lennon Perdue, Emmalee Zoubul, Derek Landis, Lindsey Richey)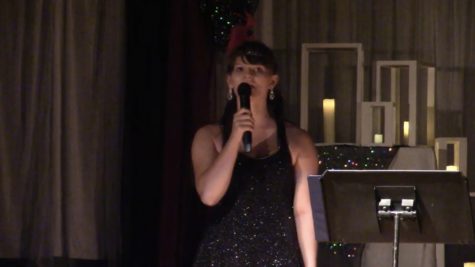 Emmalee Zoubul performing her ISSMA solo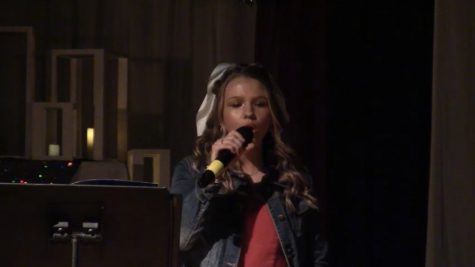 Kyah Preston performing her ISSMA solo
View Comments (14)