Uncharted: The Big Screen Debut for Nathan Drake
Mysteries are something that are difficult or impossible to understand or explain.  That is the type of genre that would describe the Uncharted video games series.  I am super excited that Sony has decided to make this series into a movie.  There have been rumors for years that they were going to make an Uncharted movie.  It is set to come out in February of 2022.  I think they picked two great actors to play the main characters for the movie.  I see that some people are a little worried about if the movie is gonna be as good as the games were.
First, I am a massive fan of the Uncharted video games.  There are four total games within the main story- Uncharted: Drake's Fortune, Uncharted 2: Among Thieves, Uncharted 3: Drake's Deception, and Uncharted 4: A Thief's End.  All of these games are classics and some of the greatest games ever created.  They tell such a compelling story to the players about finding the world's biggest mysteries of treasure.  My personal favorite one is Uncharted 4.  The ending to the whole story of Nathan Drake is one of the greatest things to ever happen to gaming.  I think there are a lot of Uncharted fans out there who would agree with me that the series is phenomenal.  With intense action, gun shootout spots, and good combat it's hard to hate this exciting extravaganza.
Next, the lead actors they chose for this movie are some of the biggest actors now.  They got Tom Holland to play the legendary Nathan Drake.  Mark Wahlberg is going play Nate's best friend Victor Sullivan a.k.a Sully.  Tom Holland is pretty big right now as he is the current Spider-Man as well.  I think Tom Holland would be a great Nathan Drake.  The trailer for the movie came out a week ago and I think that both Holland and Wahlberg are great picks for the characters.  There have always been iconic movie duos throughout the years and I hope that these two will also be added to the list.  Nathan Drake is supposed to be charming, humorous, and determined at achieving his goal.  I think Holland will definitely possess those qualities in the movie.  Sully is supposed to be a guy who cares very much about his friends.  He meets Drake at a young age and basically becomes his father because Nathan's real father didn't want him anymore. 
Furthermore, some fans seem to believe that his upcoming movie might be a fluke.  People think Sony will mess up the movie somehow and it won't be as good as one of the games.  They also think that all the actors and actresses they get for this movie won't live up to the expectations of the characters from the games.  Usually there is always a lot of hate from people for big movies that are coming out.  People always love to hate something no matter what it is.  I think that the people complaining about it need to calm down and chill out because they may exceed our expectations for this movie.  
In conclusion, I am very excited for this movie to be released into theaters.  I have adored the Uncharted series for so many years now and I'm hyped to see how it is gonna look as a movie.  The trailer was amazing and I think the movie is going to be awesome.  I think people who may have never heard of Uncharted before will think this movie is interesting.  For example, my dad didn't know what Uncharted was, but he asked me to show him the trailer and thought the movie looked very interesting.  Uncharted and Nathan Drake are definitely must-see on the big screen.
View Comments (1)
About the Contributor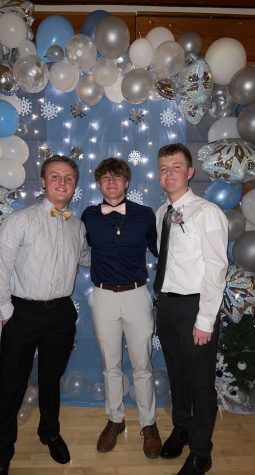 Gannon Davis, Senior Writer
Just a local man being a fella