Confetti at Concerts
Concerts are always fun and exciting. The use of different lighting, added videos, and the overall singing done by artists creates an entertaining atmosphere. Despite this, there are numerous other things artists add to their concerts to make the experience one of a kind and more appealing. A main way artists do this is by adding in crowd interaction. This includes crowd surfing, different participation while singing, showing live footage of the crowd on the big screen, and drum island. Despite all of these, my favorite tactic is confetti.
It's unknown when the first time confetti was used at a concert, but it adds a fun splash of color that not only looks cool, but provides fans with the opportunity to take a cool souvenir home with them. There's so many different types of confetti that artists use. These include standard colored confetti, larger pieces with the band's name, fun shaped confetti, metallic confetti, or confetti printed with prints relating to the band or their touring album.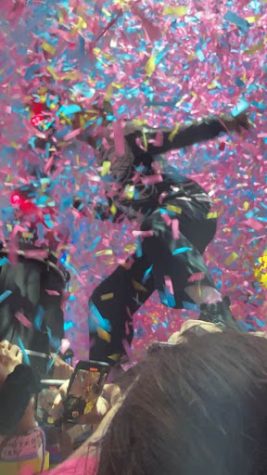 While not many people know about confetti being used at concerts without first attending a concert or being a big fan of an artist, it's incredibly common across different genres of music. Several popular bands and artists that use confetti at their concerts include Ariana Grande, Green Day, Billie Eilish, and my personal favorite, Twenty One Pilots.
Twenty One Pilots have been using confetti at their concerts since at least 2014. The duo almost always ends their concerts with a performance of their song Trees and goes out into the crowd during the second half of the song to do two drum islands and set off their confetti cannons. This is not only extremely cool to see, but it's also something really exciting to see in concert. Fans have learned to both look forward to this performance, and dread it bringing the end of the concert. Many fans have also been known to bring Ziplock bags to gather confetti in.
With all of this in mind, it might be worth it to one day go to a concert and witness an artist using confetti to add to their show. It is sure to be a memory that you will treasure and never forget.
View Comments (13)