Season Coming to an End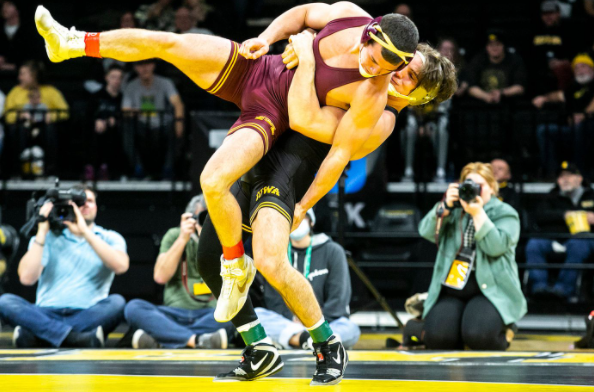 This year has been a good year for the wrestling team at Lewis Cass jr/sr High School. Lewis Cass is a small school where wrestling isn't super popular. We usually have enough kids to fill a fourteen man roster. We are approaching the end of the season where only the best move on. Being a part of the team this year was a lot of fun. We as a team had a record of 13-3. With the majority of our wrestlers being inexperienced, and struggling with covid issues and skin issues, we managed to stay strong and still deal some damage. We have three semi-state qualifiers. 
The first semi-state qualifier we have is Kaine Fowler. Kaine is our wrestler for the 113 pound weight class. Kaine's record is 27-5 on the season so far, and he placed 3rd at the regional tournament last weekend. He will be wrestling as one of the first matches this weekend at the semi-state tournament. If Kaine wins his first two matches he will advance on to the state tournament next weekend. 
Our next semi-state qualifier is Jiovonie Cervantes. Jio is our wrestler for the 145 pound weight class. This year was Jiovonie's first year wrestling in the sectionals, and he has made it all the way to semi-state. I am very proud of Jio and the heart he puts into wrestling. There is no one that works harder than Jio, and that is shown by his level of success so far this year. Jiovonie's record so far this year is 21-15, and he placed third at the regional tournament last weekend as well. 
Our final semi-state qualifier is Adam Bandelier (me). Adam is our wrestler for the 170 pound weight class. Adam's record is 25-6 on the season so far, and he placed fourth at the regional tournament last weekend. Adam has been wrestling in the sectionals for 3 years, and has only made it past twice. Last year he made it to regionals, but he ended up losing the first round. This is Adam's first and last semi-state appearance. 
Overall, I am extremely happy with the way that our season has turned out this far. Having three semi-state qualifiers is good for the Lewis Cass wrestling program. Advancing on to semi-state is a huge accomplishment as a wrestler, and all three of us will be getting a plaque put on the wall with our name on it. I'm excited to see what we can do at the tournament this weekend. I feel like even if we don't have any wrestlers advance on to the next tournament, coach Burrous is already proud of us. All of us are seniors, and this could be the last time we ever get to step on the wrestling mat.
View Comments (23)