Ronnie Coleman The King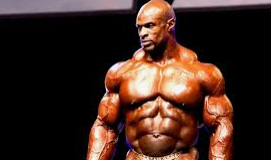 Just this past year I have changed something in my life that has brought me new perspectives, a healthier lifestyle, and new goals. I started going to the gym on January 8th, 2021, and since then I have learned so much about my body. I have learned healthier ways to stretch, lift, and eat in just a year. The gym has allowed me to gain confidence in myself and get a lot stronger physically and mentally. It is safe to say that not only has the gym changed me as a person but it has also made me a better person.
I started going to the gym to get stronger and faster. There were some days when I would rather do anything else than go to the gym. One of the hardest parts about going to the gym is staying consistent. It takes a long time to see progress, but that just makes the journey that much better. One person who stood out to me when they were in the gym is 8x Mr Olympia Ronnie Coleman. Ronnie Coleman was a beast in the weight room and never made excuses.
The documentary on Netflix called "Ronnie Coleman The King " is a great insight on going to the gym, or in Ronnie's case, bodybuilding. Ronnie Coleman is a huge influence when it comes to the gym. He is known for his famous way of getting hyped up for a heavy set. Oftentimes Ronnie would be asked why he was lifting so heavy, and his answer was as simple as "I love it". Ronnie went to the gym for roughly 10 years before he started winning Mr. Olympias. On the side of Ronnie's bodybuilding career, he was a police officer too.
One of Ronnie's motivations was his trainer. His trainer was the owner of the gym Ronnie went to. Ronnie's trainer gave him a free membership because he saw Ronnie's potential. Ronnie had one of the best careers in the history of bodybuilding. He obtained his first Mr. Olympia in 1998, and went on to win 7 more times. All of Ronnie's titles came consecutive to his first one. Ronnie won the Mr. Olympia 8 years in a row from 1998-2005. For those eight years Ronnie was on top of the bodybuilding world. Everyone that competed against him had no chance of winning. Ronnie's physique was something that has never been seen before. Ronnie lived by lifting heavy heavy weights, and I think that's what made him more defined, stronger, and bigger than everyone. Ronnie's style of training put him ahead of all of his competition.
Sadly nowadays Ronnie isn't in the best of health. Lifting all that heavy weight has taken a big toll on his body. He uses crutches or a walker to get around now. He's had a total of 13 surgeries on his back since his career in bodybuilding ended. Ronnie will forever be a legend because he brought a whole new element to the game. Ronnie now just lives his day to day life working on his own brand of supplements, and advertising his brand. He has a wife and kids that he happily lives with in Arlington, Texas.
View Comments (14)