Napoleon Dynamite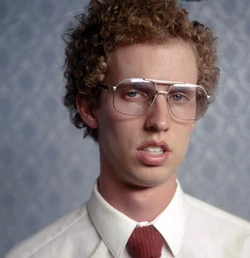 If you ask someone what their favorite movie is, you will get a wide variety of answers. Certain people may enjoy romance, horror, or action. For me, there is not any better genre of movies than comedies. There are numerous comedic movies that I enjoy such as Step Brothers, Semi-Pro, Anchorman, Three Amigos, Grown Ups, and many others. But, there stands one above all the rest – Napoleon Dynamite. The first time I can remember watching the movie was in first grade, watching it with my dad. It wasn't until about third or fourth grade when I finally started to appreciate the true beauty of the film. 
     For those who haven't seen it, it's a story of a high school student (Napoleon) who is forced to live with his uncle after his grandma gets injured at the sand dunes. After having a hard time with his Uncle Rico and his brother Kip, he becomes friends with a new kid at school – Pedro Sanchez. After Napoleon and Pedro hear about the upcoming class elections, Pedro decides to run for class president. After campaigning, Pedro and his competitor (Summer) must both give a speech and skit to the entire school. Pedro was never informed that he must do a skit, so Napoleon wows the crowd with this big dance and gets Pedro to win. The movie is filled with comedic scenes. 
     For me, the movie is filled with numerous hilarious scenes. Every time I watch the movie, I always laugh the whole way through the movie. Watching the dance scene never fails to make me laugh as well. The film itself is based off a student film, so the budget was not very high compared to others. The budget for the movie was about $400,000. However, the movie grossed over 44 million dollars. While $400,000 may sound like a lot to many people, the average budget for a movie in 2004 – when Napoleon Dynamite was produced – was 98 million dollars. This is a substantial difference in budget amount. Seeing a movie have such a good outcome from such humble beginnings is neat to see and increases the amount I like the movie as well.
     I have many friends who also enjoy the movie. However, the movie isn't for everyone. I know many people who think Napoleon Dynamite is just a dumb movie and won't watch it. But, some of my other friends enjoy watching the movie as much as I do. If you enjoy watching comedies, I encourage those who haven't watched the movie to do so. 
     Overall, Napoleon Dynamite is one of my favorite movies. It never gets old watching it. I actually watched it last night as well. I encourage you to watch it if you get the opportunity to do so.
Leave a Comment
About the Contributor
Cole McCloskey, Senior Writer


My name is Cole McCloskey. I am a senior at Lewis Cass. I run cross country and track, and I'm involved in different clubs at Cass.