Cass County Community Foundation Fulfills Dream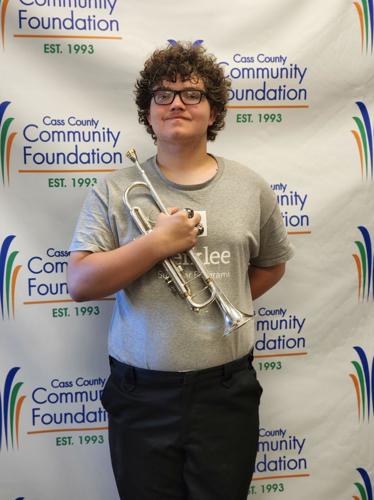 One of our students, Ian Hook, has High Hopes to pursue summer training at the Berklee School of Music in Boston. The Cass County Community Foundation (CCCF) is able to make those hopes possible.
The Cass County Community Foundation is a non-profit organization. They assist donors in building sources of assets to promote education, humanity, and advance community development in Cass County. The Foundation does not focus on one area, but rather many areas to help Cass County. As an example, the CCCF donated 50,000 dollars to robotics in the county. This greatly helped our school's robotics program, and we were able to afford a CNC machine for our robotics program. In addition to helping us manufacture our own parts and get them faster, this allows learning opportunities such as learning how to use a CNC machine which can lead to different careers. So one charitable thing they did was give Hook an opportunity that he dreamt of.
Everything Hook wants to do has to do with music. He hopes to compose film scores one day. He is in the Lewis Cass Marching Band, Jazz Band, Pep Band, Winter Percussion, Solo and Ensemble, and Choir. Ian is also taking classes relating to music, such as music composition. Hopefully, he will make film scores as iconic as John Williams did with Star Wars. He was able to attend two music classes in Boston over the summer. One for music composition and one being a brass workshop. He had to experience deadlines. He had an opportunity to meet musicians like himself from all over the world including China, Venezuela, Chili, Russia, and Puerto Rico. They also had guest musicians such as trombonist Kenneth Thompkins and jazz trumpeter Phillip Dizack. He learned many different techniques from around the world and he was able to experience many different cultures of music. He wrote Latin and International style music during the program.
He was almost not able to go to the program. The amount required for the program amounted to more than six thousand dollars. Hook reached out to the CCCF to see if there were any opportunities available for him. CCCF Director and CEO, Deanna Crispen, said no but offered to look and see what she could do. Crispen approached the board and asked about using the money from the estate of Richard and Rose Gates for educational purposes to fund Hooks program. Crispen said, "When you see a young person who has that passion and that joy and to be able to experience something like this at that level, that's why we are here." Crispen showed up to Lewis Cass to inform Hook personally about the great opportunity that he was able to go on. Hook says," (The CCCF) was a huge help. I would not have been able to go without their help. They helped with my airfare. They helped with my tuition, my housing, my food. Pretty much everything." This is a great example of the help the Cass County Community Foundation is in our community.
https://www.pharostribune.com/news/article_668b6ee6-2a0e-11ed-a203-27ae16729775.html
http://casscountycf.org/pages/what+we+do/21
View Comments (4)
About the Contributor
Elijah Beard, Editor-in-chief


My name is Elijah Beard. I am currently a Junior at Lewis Cass Jr-Sr High School. I like working with technology and love listening to Hard Rock and...