A Review of November 9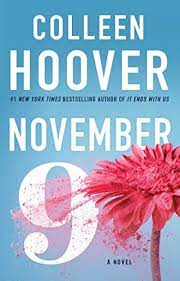 As someone who enjoys reading, but only certain types of books, Colleen Hoover is one of my favorite authors. She writes romance novels, but they normally have an unexpected plot-line. At the beginning of November 9, Fallon is planning her cross-country move, but before she moves she goes to a restaurant to have a goodbye meal with her father on November 9th. Fallon and her father do not get along very well due to when she was younger her dad's house caught on fire. During the fire, when her father was talking to the firefighters he forgot she was staying with him, and told the firefighters no one else was in the house. This resulted in Fallon having severe burns that left scars all down one side of her body. Fallon has been very insecure of this since it happened. She wears clothes that cover most of her body, and her hair is always covering the side of her face. 
During the dinner with her father, who is a previously famous celebrity, kept shutting down her dream of becoming a Broadway star. Then the reader gets introduced to Benton "Ben" Kessler. Ben is sitting at a table across from their booth and as he can overhear the conversation, he can tell that Fallon is upset with her father. He gets up and sits with Fallon pretending to be her long-time boyfriend. He puts his arm around her and pretends to know everything about her, just by overhearing part of the conversation. Ben and Fallon together put her dad in his palace and he ends up leaving the restaurant. Fallon and Ben continued to talk and spend the rest of the day together before she moved in the morning. They wanted to continue to stay together, but Fallon was not going to throw her life off track of her big plans for a boy. They made a deal to meet back at the same restaurant every year on November 9 until they were ready for the next step.
The following year, Fallon spent it thinking about Ben, but part of their deal was no communication in between the date. They both spent the next year just waiting for November 9th to come back around. The next year came where they met and talked, but every year they wanted to break their rule and just have one move, or have contact with each other. However, neither Fallon nor Ben were ready for that yet. Years went by and individually they started to move on with their lives. Ben is a writer and he was currently writing a book about Fallon, but he did not know this. He finished the book and Fallon felt ready in her life to commit to Ben. When they met up for the third year, Fallon found Ben's book and began reading it without him knowing. The book revealed that Ben was very mad at Fallon's dad from before Fallon even knew Ben. Ben had been the one to catch her house on fire and cause the burns on her body. Fallon immediately brought this up with Ben and then left for another whole year. 
The fourth year, Ben showed up unknowing if Fallon would ever forgive him. Fallon showed up, but Ben had moved on with another girl. Ben tried to keep it hidden, but he let it slip and accidentally mentioned his new girlfriend. Fallon left about as fast as she did the year prior, but Ben chased after her trying to explain he thought she wanted nothing to do with him. Fallon explained that she loved him, but she was confused about the book. He explained and Fallon eventually forgave him, and they ended up together in the end. I enjoyed this book a lot, because of the romance, plot twist, and intriguing plots. I loved both of the characters, and cannot wait to read more of her books.
View Comments (2)
About the Contributor
Erika Johnson, Senior Writer


My name is Erika Johnson. I am a senior at Lewis Cass Jr-Sr High School. I manage the boy's tennis team and I play for the girl's team as well. I love...