Ginny & Georgia Review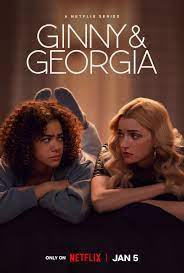 I'm sure most of us have heard of the show Ginny and Georgia by now. It is a very popular show on Netflix about a mom and daughter who move to a small town in New England called Wellsbury. Ginny is the teenage daughter, and Georgia is her mom. Georgia had Ginny when she was just fifteen years old. Later on she had a son named Austin. Georgia's kids both have different fathers. Georgia has moved her and her kids many different times throughout their lives. Georgia isn't who you think she is though. She has done some terrible things and Ginny is now finding out about what she has done. 
First let's talk about why they moved to Wellsbury. Georgia packed her and the kids up and moved from Texas all the way up to Wellsbury. The supposed reason they moved was to get a new start in a different town after her husband Kenny passed away. Ginny never liked moving because she couldn't make new friends cause they would just move after she did. But after moving to Wellsbury she really liked it, and she made new friends that turned into her best friends. 
Next let's talk about their new life in Wellsbury. Ginny made new friends as you already know but Georgia also made a new friend named Joe. Joe owns a food shop named Blue farm cafe, Ginny later gets a job there. Georgia meets a man named Paul Randolph at Blue farm, and has lunch with him. She finds out that Paul is actually the mayor of Wellsbury so she tries to get a job at his office. She doesn't succeed right away but later on he gives her the job. Everything seems to be going well for the family until Kenny's ex wife contests for the will. That leaves the family without money until the fight for the will is over. Problems start arising for Georgia as a private investigator is hired to find any dirt they can on her. Her secrets start coming out and the private investigator tells Ginny about his mom murdering Kenny. This starts many problems for Ginny and Georgia's relationship. Ginny and Austin run away to Ginny's dads house and stay there for many weeks. They then come home still angry at their mom, Ginny won't hear her mom out on why she killed Kenny. The reason she did was to protect Ginny from the things she went through when she was little that no one would stop for her.
Many other things also happen but you'll have to watch the show to find out. I think the show is very good. It's filled with drama, some parts of it can be corny but if you can get past those parts it's a good show. The plot is very well written out and it plays out nicely. If you like to watch shows filled with drama, comedy, and lots of emotion then this show is for you. 
Leave a Comment
About the Contributor
Kenzie Mcleland, Senior Writer


Hi my name is Kenzie McLeland. I am a senior at Lewis Cass High School. I enjoy spending time with my family/friends, working out, and hanging out...