Boys '23 Sectionals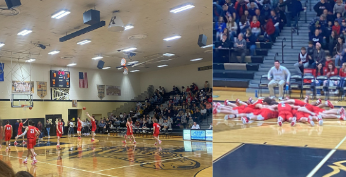 In the months of February and March the Lewis Cass boys basketball team has their sectionals. On February twenty-eighth Lewis Cass played Pioneer and on March fourth we played Rochester. Both are very beatable teams and we should make it to the championship game. The boys have worked their tails off to get here so we all hope that they have success and win it all.
On Tuesday,  February 28, 2023, the Lewis Cass Boys' Basketball team played against the Pioneer Panthers. The players fought hard against the Panthers and had a great game, with Luke Chambers crushing it in the paint and Tyson Good dominating with outside shots. The final score of the game was 65-29 leaving Lewis Cass with the win. The boys play the Rochester Zebras for the next game of sections. Wish them luck! 
All of the boys work great as a team. None of the players are selfish and/  or ball hogs. They all make sure the other players have points as well. On Tuesday the boys played so well, if they play the way they did on Tuesday then we have a good chance of winning sectional game two. The student section helped the boys play harder and better. At halftime of the game all of the fans were on the edge of their seats, we were all very nervous because both teams were tied to 15 points.
Sadly, the game on Friday got postponed, but it was a blessing in disguise because the boys had another day to rest and practice! With the extra day to practice, the boys pulled out with the win! They all individually played well and also played well as a whole. The boys fought to the finish and that's what counts. They didn't give up on themselves and each stepped up when someone one would step down. Now all they have to do is win against the Wabash Apaches who are equipped with good players, but are very beatable. If we beat the Wabash Apaches, we're headed to regionals on Saturday!
The Lewis Cass boys got the win! With such great team effort, the coaches also do awesome (Especially Coach Johnson). After they won everyone flooded the court to celebrate. On our way back to the school to celebrate there was a trail of cars behind the cheerleaders bus and the boys bus. They were even escorted by a fire truck and around 5 police and sheriff cars. All the community rallied around the boys. People came out of their houses to wave, people were flashing the porch light, the cars were honking and flashing their lights.
Leave a Comment