The Willow Project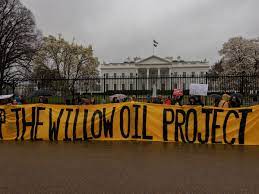 On March 13, 2023 president Joe Biden approved the Willow project. The Willow project is an oil drilling project by ConocoPhillips located on the plain of the North Slope of Alaska in the National Petroleum Reserve in Alaska. The willow project is supposed to start happening in the year of 2027. This project is projected to produce 9.2 million metric tons of planet warming carbon pollution a year, that is equivalent to adding 2 million gas powered cars to the roads. There are many that are excited about this project and there are also so many that are angry. 
Let's talk about the damages this project will do to the environment and animals. Many animals will have to be relocated or many might die. Polar bears are the animals to be most affected by this project. Indigenous groups will also be affected by this project. Reporters did an interview with one of the leaders of the NDN collective group Jade Begay. The NDN collective group advocates for indigenous groups. She stated that " I think just off the bat, really disappointed. I personally am really excited and have been really excited about a lot of the climate commitments and the climate agenda at large and have been an advocate for implementing that and wanting to see that climate agenda succeed and have been working to make sure that that happens. However, this really is counterintuitive to a lot of the work that I am doing and that many others are doing on the ground." Begay is disappointed as many are with the decisions for this project to go through. 
Now on to how we can stop the Willow project. There are many different ways to stop the project. You can write to the white house and tell them your thoughts about it, you can contact advocacy and see how you can help them, try to get in touch with local representatives and see if they can do anything, or use social media to voice your opinion about it and get others to know what is happening and going to happen from this project. 
I hope that people can change the president's mind and that this project won't go through, but we can only try to push them to change their minds. Many people already know about it, but we can keep posting and writing letters to stop this project. 
View Comments (1)
About the Contributor
Kenzie Mcleland, Senior Writer


Hi my name is Kenzie McLeland. I am a senior at Lewis Cass High School. I enjoy spending time with my family/friends, working out, and hanging out...