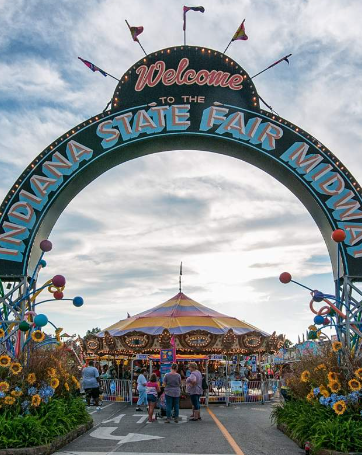 Midwest summers are not the typical sand and wave summers you hear about in songs, movies, and television. Without beaches nearby, some may struggle to find ways to entertain themselves. However, in 1892, those "dull" Midwest summers changed for the better. The Indiana State Fair is a well-known attraction to all Hoosiers, offering competitions, workshops, games, concerts, and shows. I have been fortunate enough to experience the Indiana State Fair not only as a spectator but also as a competitor.
I have been going to the Indiana State Fair since I was in a stroller, and diapers for that matter. The Indiana State Fair is wrapped in tradition, not just for me but for most participants. 4-H "runs in my family", which is true of most 4-H'ers you encounter at the State Fair. My grandma had projects at the state fair, my mom and aunt had projects at the state fair, all of my cousins have had projects at the state fair. The same can be said by most 4-H'ers at the fair. 
There is nothing like the anticipation upon entering the project building hoping to see a blue ribbon hanging on your project, but deep down hoping it is blue and orange. Orange is the beloved special merit award, which is awarded to the top fifteen percent in a project. The excitement I feel when I see that orange ribbon is even better than the excitement I feel when seeing a blue ribbon. A lot of hard work goes into completing a project, so it is nice for 4-H'ers to feel rewarded. The project I compete in the most is Fashion Revue. This project highlights clothing made by a 4-H'er by having them model in front of judges. This year, I modeled a black satin evening gown with rhinestone accents on the straps and a unique back feature. I was thrilled when they called my name for Top 10. Eighty-two counties participate in 4-H, and the category has tough competition.
Visitors will see 4-Her's competing in projects such as livestock, gardening, and public speaking, but the Indiana State Fair is not just for 4-H. There are free shows on stage as well as performances you can buy tickets to see. Most years the Indiana State Fair hosts a famous solo or group artist, and this year happens to be Clint Black, TobyMac, and Styx. When I was younger, I saw Demi Lovato on stage, which was a dream come true for my younger self since I grew up watching Camp Rock with my sisters. In addition to competitions and entertainment, there is a lot to be learned at the State Fair.
Professionals offer free classes, workshops, and information sessions about almost every topic under the Indiana summer sun. You can learn the health benefits of and caring for a hot tub, how to fish and take care of Indiana river systems, and how the pioneers settled Indiana. You can watch a live surgery performed by the Purdue School of Veterinary Sciences, learn how to shear sheep, and learn how to operate a sewing machine. In case you do not want to spend your last days of summer learning, there are also plenty of fun rides offered at the fun-filled fair.
The Indiana State Fair offers over forty fun rides for children and adults of all ages. Unlike some amusement parks, the height requirement for the rides is not too rigorous. Since the fair is family-friendly, children just three feet tall can ride select rides with an adult accompanying them. On most rides, children three and a half feet can ride by themselves. So, if there are any parents reading this article, you now know where to take your toddler if you ever need a minute of alone time on a nice, hot summer day. 
Although Indiana is not by sand or waves, the Indiana State Fair (almost) makes up for it. With so many fun workshops, concerts, and rides offered, teens and families will always have something to look forward to on a hot summer day. With the stress of school approaching during those last summer days, the Indian State Fair helps take your mind off of all the worrying that comes along with school coming. Next year when your friends or family ask what you want to do before school starts, you can tell them you would like to check out the Indiana State Fair.
Story continues below advertisement