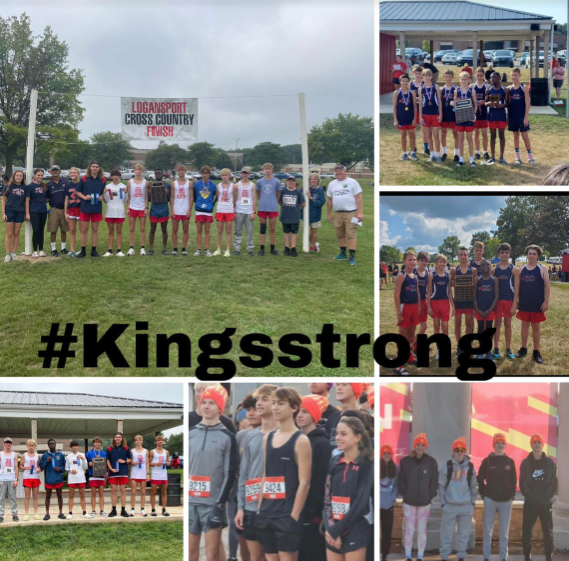 The Lewis Cass Cross Country boys and girls won first place in the county meet on Saturday, August 26. Both the boys and girls ran great, and our very own Aftin Griffin placed first over-all for the girls. I had the opportunity to go watch the meet and was able to interview to get insight on how some of the girl runners were feeling. The girls and guys were all so happy and proud of themselves for their strive and push. 
     The top five runners for the girls were freshman and sophomores. That is a young team looking to a great future for their last years of high school. The top five runners over-all are Sophomores, Aftin Griffin (1st), Annaleigh Hedrick (3rd), and Kylie Logan (4th), The 5th placed runner was freshman, Gracie Spicer. 
     Aftin Griffin was quoted as saying, "We trained through this week so my calves were a little sore towards the end so that kind of stopped me from pushing myself." Griffin's winning time was 20:53, even though she said her goal was getting under the 20's. She also quoted, "A win is a win, and I can't be mad about that." Her favorite part about cross country is the team, she said, "I love this team so much". 
     Senior, Kennedy Thorpe, quoted, "This team is one of the most special things someone can be a part of, and I'm so grateful that I've got to run for four years. This group of girls is going to go to so many places, and we're just going to keep getting better every year." Kennedy has been running all throughout high school and would recommend running to any high school student. Kennedy placed 21st over-all for the girls. 
     Foreign exchange student, Laura Nebrera, quoted beforehand, "A little bit nervous but so excited to run her first race". She then went on to say, "I am so grateful to be a part of this team and is glad I joined" Laura placed 22nd in the meet for the girls. 
     On the boys side, several of our boys placed in the top 10 many were sophomores here at Lewis Cass. Kale Skiles placed 2nd place with the time of 17:42 to lead our Kings. Kaiden Hughes placed 6th with the time of 18:07. Gavin Griffin placed 7th with the time of 18:32. Colton Copeland placed 9th with the time of 18:44. We also had two more boys that were in the top 20, freshman Dominic Sebastian placing 15th with the time of 20:16. Junior, Curtis Henry, placed 18th with the time of 20:33. Coach Bonset, the boys head coach in his 54th year of coaching said, "He has a pretty young team. Mostly all sophomores, a lot of young kids. They've worked hard during the summer, they're working hard now and they run close together."
     The Lewis Cass Cross Country team is an amazing experience said by many of the runners. They all have a special bond and continue to grow together after each race. Their encouragement for each other is undeniable. They practice everyday after school and train all throughout the summer for times like these. These memories are unforgettable. As Senior, Kennedy Thorpe, said "This team is one of the most special things someone can be a part of."
Story continues below advertisement