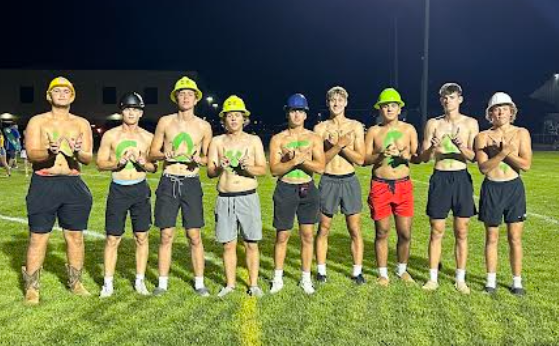 Go fight, win!!!! Do you love going to games on Friday nights, and have you heard of or noticed the Paint Crew? The Lewis Cass Paint Crew has been around for about five years and has brought a dramatic uprising to athletic events at Cass. You may be asking yourself, what is the Paint Crew? The Paint Crew is a selected group of guys from the school, whose role is to increase school spirit and support to Kings' events. We do not  just show up all dressed normally though, the Paint Crew although it probably wasn't hard for you to guess. We painted ourselves in colors matching the theme selected by the group president. This year's Paint Crew consists of two freshmen, three sophomores, four juniors, and then one senior/president. In order to become the Senior President, you must be chosen from the previous year's president, and then when that president graduates they pass it down as well.
     The paint crew has a lot of different ways it can affect a game. The paint crew brings a lot of energy to the games and to the student section. We do our best to come to each game and make it enjoyable and entertaining for the fans and students. I interviewed some of the members of the Paint Crew on what their favorite themes are, and our sophomore member, Harrison Clark, said, "The construction theme was my favorite, because I feel that everyone enjoys participating and dressing up for the theme." Harrison is a two-year member/ Vice President of the Pep Club and plays a big part in the Pep Club/Paint Crew. Harrison was also asked what he is looking forward to the most this year and what are his goals for this year's crew and activities. When asked about what he is  looking forward to the most this year, he said this, "I am looking forward to spending time with the senior class and celebrating wins and successes for this year's teams and events." I also asked him what his goals are for this year's football  and basketball seasons later on, he said,  " My goals for this year's seasons are to bring the most school spirit and students to the games as humanly possible."
     As a two year member of the Paint Crew and Pep Club, and as the Senior President of the Paint Crew/Pep Club, I have had a lot of experience in the different activities and themes.  It is a tremendous amount  of fun being able to come together with all of your friends and cheer on the teams in hopes of a Kings win! 
     I have made an infinite amount  of memories and friends while being on the Paint Crew. The best memories I have made, would be after a win when the whole student section and paint crew rushes the field in celebration of the victory. After the games everyone would go to Taco Bell to eat and hangout, and I feel that also brought everyone together . As a member of the Crew, I would highly recommend joining the Crew or joining the student section because being involved with your teams and student sections makes every game ten times more enjoyable, and you will become friends with someone you might have never thought you would have. See you at the next game and until the next article!
Story continues below advertisement