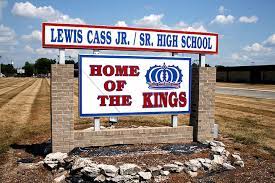 "Once a King, Always a King" is the Lewis Cass High School motto. It insinuates once someone attends Lewis Cass, they join a collection of people who are and always will be connected to each other through the fact they are all Kings. Being able to call yourself a King is a pretty rare experience as Lewis Cass is the only high school in the state of Indiana that has a King as their mascot. That brings a sense of pride being able to be a part of a school that has a mascot unique to itself. After graduation, the pride of the school never truly leaves you. Many of the staff at the school demonstrate this motto as they graduated from Lewis Cass and have come back to be Kings.
     Among the individuals who keep the school running smoothly, there are over thirty staff members who are proud alumni of Lewis Cass High School. This commitment demonstrates the power of the school's motto. These staff members, ranging from custodians to superintendents, bring their personal experiences and extra dedication to their roles. Their commitment to their jobs is deeply rooted in their passion for preserving the legacy of being a King.
     After interviewing some of the staff members about their experiences at Lewis Cass, they all seemed to come back to the same answer about why they wanted to come back to the school. "I loved my time at Lewis Cass, so my goal was always to be back here." (Burrous, Nate Sep. 14, 2023) Many people can not wait to get out of their school and never come back, so the fact that so many staff members have come back and responded so positively makes you think Lewis Cass is really something special. The school helps forge bonds between students through shared experiences and pride in being a part of something as extraordinary as being considered a King. These bonds and experiences help the teachers and staff relate back to the students in ways teachers from other schools might not be able to. 
     Some of the staff members are younger than others, but the fact is, things have changed since even the youngest staff member was in school. Most assignments and worksheets are now digital and can be done online. Some of the school's layout has even changed through the years. "Many kids transfer instead of learning to cope with problems." (Adams, Heather Sep. 14, 2023) Mrs. Adams, one of our guidance counselors, believes one major change in the school is students have lost coping skills. Students have lost the ability to figure out why they are having problems and instead try to run away from them. Mr. Burrous proclaims students aren't as involved as they used to be. He said most students used to be in multiple sports, but fewer students participate in clubs and sports anymore. Even though there have been many different changes to the school, the motto continues to hold true for all students and alumni. 
     Of the staff I interviewed, they all said they would probably choose the same career path if they had the chance to do everything over again. The love for kids and the school resonates deep within all of them. Mrs. Adams admits she loves her job because he gets to work with kids and gets to work in her comfort area, but at times, it can be extremely stressful. Her advice to kids who want to become a guidance counselor is, "Go into it knowing it will be a career that is going to impact your mental health." (Adams, Heather Sep. 14, 2023) She is a great example of what "Once a King, Always a King" truly means. Even though you may be having a hard time, the thought you are a king and always will be can help you keep pushing forward.
Story continues below advertisement