The Chicago Cubs are Rollin'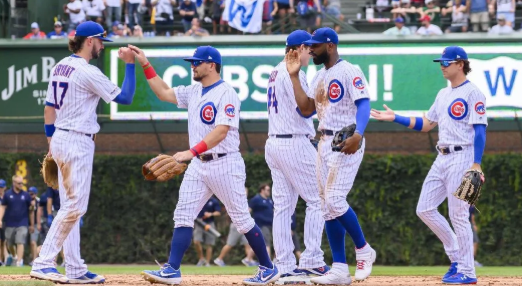 March 12th, 2020 was the day MLB Baseball suspended play for the 2020 season. Now it's August 16th and the Chicago Cubs are currently the best team in baseball. With the huge lineup consisting of All Stars Anthony Rizzo, Javier Baez and Kris Bryant, they should have a great season. Not to mention having great role players like Ian Happ, Kyle Schwaber and Jason Heyward. The Cubs are making a convenient argument to be considered a title contender for this season. I believe that they are a serious contender and I'll tell you why. 
The Cubbies are currently 13-5 through 18 games played this regular season. During these stretch of games, the Cubs have had one of the best rotations in baseball. The Japanese Superstar Yu Darvish is straight dealing on the mound for the North Siders of Chicago. Darvish, in his last three starts, has put up 22 strikeouts in 20 innings pitched and an insane 0.90 ERA per outing. Also, during his first four starts, he has only allowed 14 hits; which is only 3 and ½ hits per game. When talking about the Cubs, you can't forget about the two veterans,  Jon Lester and Kyle Hendricks. Both players are putting up great numbers but not the video game numbers like Darvish is. If the Cubs rotations keep up this production for the rest of the season, it will be a serious problem for opposing lineups across the National League. 
The Cubs lineup is also one to fear for opposing teams. There is Home Run potential from quite a bit of players on the team. Those include ;Wilson Contreras, Anthony Rizzo, Javier Baez, Kris Bryant, Kyle Schwaber and Ian Happ. All of these players have the ability to change the game with one swing of the bat. With that being said, pitchers of opposing teams know if they keep something in their ballpark of their swing, it could be a couple of runs for the Cubbies. The Cubs also have guys that know how to get on base for them such as Jason Kipnis and Victor Caratini. If the Cubs lineup is as scary as I believe they are, it will be a very tough time to stop them. 
There are two points of interest where I do believe that the Cubs need to address very soon. First is the bullpen. The Cubs' bullpen is very shaky in late games and have proven to let leads slip a little in the 8th or 9th inning. The Cubs bullpen needs a for sure closer and Craig Kimbrel isn't the guy for the job. If we can find a reliable closer, the Cubs team would be set up for success. Second is for All Star Kris Bryant to play well and stay healthy. He has put up very mediocre stats while missing five games already. All we need from him is his all star self to return because then his big bat in the lineup would mean something. 
The Chicago Cubs have set themselves up for a big season this year and all Cubs fans now have big expectations for this team. The Cubs are moving into the right direction with first year Manger David Ross at the helm of it. I believe that the Cubs have the raw talent to keep doing what they are doing currently, and I can't wait to see what this team can do come postseason time. 
View Comments (24)