The Big Fight!
Ryan Garcia and Gervonta Davis are two of the biggest names in boxing. Both were undefeated coming into this fight and had a combined 14 million followers on Instagram. On April 22, 2023 these two fighters decided to go at it in the ring. This was not a title fight, but still brought in a lot of viewers. This was the whole point of this fight. These two young stars were fighting for pride and the sport. The boxing world has been a little dry lately and has needed a spark. This fight delivered exactly that. Ryan Garcia and Gervonta Davis are both not afraid to take a big fight. The fight has had some backstory and lead up that made fight night even better. 
In July, Ryan defeated Javier Fortuna in 6 rounds. After this fight, Garcia called out Davis. He said, "I'm not going back down to 135 for nothing, but I will fight 'Tank' next," Garcia said. "If 'Tank' wants it at 140 … let's get it." The two had been taunting each other over Twitter throughout some of their previous fights. Ryan had been referring to Tank's fight at the time where he fought at 140 pounds. He then jumped down to 135 pounds. For Tank, this is not a big deal because of his 5'5" height. For Garcia, this would be much more challenging. He is 5'10 and is much more comfortable at 140 pounds. The fight eventually was fought at 135. Garcia had to cut and had certain regulations that he had to follow to make sure the fight was at 135 pounds. The two fighters also were on two different networks. Ryan and Tank had to figure out a deal to be made through Showtime and DAZN. The key to this fight though was Ryan Garcia. He was willing to do anything to make this fight happen. He took a drop in percentage of pay on the fight in order to make it happen. This shows the determination that Ryan Garcia had in order to make this fight happen. This was by far the biggest fight in both fighters careers, but especially for Ryan. 
The fight was a huge success for the sport and the fighters. It attracted more fans than usual and set records for the selling of the fight. This was promised to be one of boxing's biggest revenue drivers in years. It was held at T-Mobile arena in Las Vegas and sold out immediately to an over 20 million dollar front gate. The fight was an immediate success just as promised. 
Ryan Garcia ended up losing in the seventh round. Garcia's power is just something special. He is able to have flaws in his boxing form because of his power. He is now 29-0 with 27 KO's. He has the highest KO ratio in the sport right now. Davis was winning the fight on all three scorecards. The first two rounds were about all that Garcia was able to handle. He got very anxious and impatient, which cost him the fight. He got KO'd with a shot to the body. 
Even though Garcia lost, it was still great for the sport. The fighters have a chance to fight again in the future. They helped the sport gain some spark and fans. Both fighters have a great future ahead of them and will still be the faces of boxing for a long time.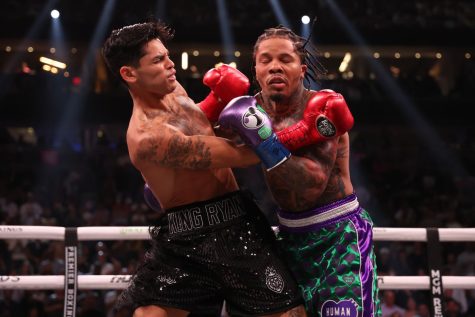 https://www.cbssports.com/boxing/news/gervonta-davis-vs-ryan-garcia-fight-results-highlights-tank-scores-tko-with-vicious-body-shot/live/
https://www.espn.com/boxing/story/_/id/36225315/gervonta-tank-davis-vs-ryan-garcia-how-one-boxing-biggest-fight-came-be
View Comments (3)
About the Contributor
Noah Preston, Senior Writer

My name is Noah Preston. I am a senior writer for the Kings Courier. I play tennis and baseball here at Cass. I enjoy hanging out with friends and having...