Should School Uniforms Be Mandatory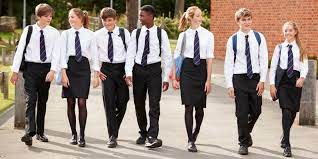 Do you like to wear what you want? That is probably an obvious question. We can assume most people would answer with a yes most of the time. Most people in this world wear whatever they want. There are some limitations with the text on the shirt, but for the most part,  as long as it is covering the inappropriate parts of the body, then it's fine. When we are little, our parents dress us in what we want, but later on, in life, it's all up to us. I think it is safe to say that when we were young, we did not like our parents making us wear what they wanted. We all wanted to wear what we wanted. Now, imagine you're a teenager in high school; does getting forced to wear a uniform everyday sound fun? This has been a very hot topic for schools recently. Many people are for and against this way of getting dressed; there are also many pros and cons to students having to wear a uniform in school. This is tough because both sides of the argument bring valid points, but is this something that should be enforced in America of all places. After all, this is supposed to be the land of the free, right?
The question of mandating these school uniforms is becoming a lot more prevalent, but are they making their way into public schools? Well, nearly 20% of all public schools have implemented uniform mandates. Approximately 22% of elementary schools, 19% of all middle schools, and ten percent of high schools require school uniforms. These numbers are continuing to increase. Private schools are usually attributed with school uniforms, but now the idea has made its way into more and more public schools. Fairly recently, public schools didn't start implementing uniforms until 1994. The Long Beach California School District first added uniforms to address safety issues. One year later, the fights and muggings had decreased by 50%, while sexual offenses were reduced by 74%. The more the uniforms were introduced, the more these statistics have proved themselves. This gives public schools the ability to make their case for mandating uniforms as a safety protocol. Now that more schools are using uniforms, there are a lot of people who aren't happy about this. There are many benefits of using uniforms, but there are some downsides. 
With school uniforms comes unity; however, is this such a good idea? The times and ideas have changed a lot. A big part of recent years is having your own opinion. We are in an era where diversity is on the rise and society is leaning toward having awareness and differences. With uniforms, it prioritizes conformity. It is almost like going back to tribalism. This is encouraging the idea that being yourself and having independent thought is frowned upon. It does not let students know that individuality and independent thought are actions that should be valued instead of brought down with the conformity of uniforms. The uniforms are in sets for males and females. This is not right and takes away from the gender identification of young children. It forces these children to give into gender stereotypes in their clothes. The uniforms are also allowing for some comparison. Yes, the bullying numbers might be down, but there are still ways that people can target others with uniforms. Uniforms don't allow for different body types to dress to their liking. Without uniforms, kids are free to choose clothing styles that form their bodies better and allow them to look their best. The easy comparisons are not as obvious as they are when everyone has on the same clothes. Teens are very self-conscious about their body image; with uniforms, these feelings of insecurity can have long-lasting effects. 
In conclusion, there are many pros and cons to mandating school uniforms. The ways that it affects the students should be looked at very carefully. Yes, the uniforms can help with a lot of aspects of them, their parents, and their communities' lives, but still don't outweigh the negative effects. The beneficial sides of the uniforms are great, but we can't allow the uniforms when they can have negative effects on the students as well. In the end, the students are the priority and we need to do anything possible to help them out.
Leave a Comment
About the Contributor
Noah Preston, Senior Writer

My name is Noah Preston. I am a senior writer for the Kings Courier. I play tennis and baseball here at Cass. I enjoy hanging out with friends and having...