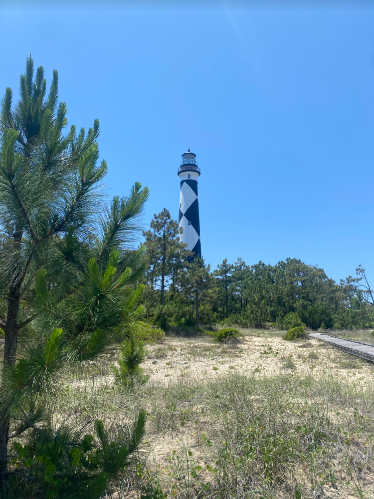 "The Outer Banks, Paradise on Earth." I am sure the majority of you have seen the hit TV show Outer Banks. Many have dreamed of living in Outer Banks because of the action-packed lives the characters live. Mrs. Dockery recently got to live a little piece of the Outer Banks life because of a once and a lifetime opportunity. 
     Mrs. Dockery was awarded a grant called the Lilly Teacher Creativity Fellowship Program. One word Mrs. Dockery used to describe the application process was "interesting." "The application process was not easy. There was a LOT of research to be done to complete the budget, lodging, and timeline portions of the application. Fortunately, I like this type of research and found it very enjoyable. The goals and purpose sections were relatively easy to complete. I attended an online workshop to learn how to best complete the application, and ended up making only one change to my application after the workshop. I included two letters of recommendation from co-workers. I found the application to be similar to a school project, and really enjoyed the entire process of the application because of how much I learned about the OBX while researching. After submitting the application, the wait time was about six months to see which applicants were awarded the $12,000 grant." Each year, over five hundred teachers apply to the grant in hopes of receiving this once in a lifetime opportunity. Unfortunately, only one hundred teachers receive an email and letter telling them their dreams have come true. Mrs. Dockery said she thinks she was in shock for a couple of days after opening the email she had received giving her the wonderful news.
     Teachers can apply to go anywhere in the world and do anything they can imagine, so what made Mrs. Dockery choose to go to Outer Banks, North Carolina? The main reason she was drawn to OBX was because of historic lighthouses. Mrs. Dockery shares a little about what made her interested in lighthouses in the first place, "I've been fascinated by lighthouses after reading the book The Light Between Oceans by M.L. Stedman." She was also drawn to OBX because of the names of some cities there like Nags Head, Kill Devil Hills, Kitty Hawk, and Duck; all of which Mrs. Dockery was able to visit. Mrs. Dockery was also able to travel with her daughter…me!
     Mrs. Dockery, my mom, asked me if I wanted to join her in Outer Banks for the month of June, and how could I say no? Going to Outer Banks for a whole month during the summer was truly a once in a lifetime experience for me. I got to ride along with my mom while we went on some of the coolest adventures I have ever experienced. We climbed five different lighthouses while learning about two others, we went parasailing, booked a private sailboat excursion, went dolphin watching in the sound, participated in a wild horse adventure tour, and toured Oak Island from a small Cessna that he tried to get my mom to fly! We stayed in five different cities including Oak Island, Harkers Island, Buxton, Kill Devil Hills, and Corolla. Even though our trip was filled with exciting activities every couple of days, we both experienced some home sickness and bumps along the trip.
     The bumps along the trip were very minor; I mean how could we complain when we were practically living in Outer Banks for a month! Mrs. Dockery shared some of our minor bumps, "No trip is without hiccups, but these were very minor. An outdoor play I really wanted to see about the Lost Colony, of which I had read about in another book, was rained out. I discovered I really do not like seafood, and most restaurants in the OBX stink of seafood. There are some really busy areas of the Outer Banks, and the traffic can pile up. If you are not staying beachfront, it can get annoying carrying everything a couple blocks to the beach." The trip was also filled with some of the best moments we had experienced together. "I got to relax. It's very hard for me to relax, but about a week and a half into my trip my headaches and jaw pain went away. I spent time journaling and reading my Bible without the distractions of what needed to get done at home. I spent some quality time with my 'baby' before her senior year. Of course, the lighthouses were a highlight of the trip," remarked Mrs. Dockery.
     Even though I did not get to meet the characters from Outer Banks, the trip was still a dream. When I asked Mrs. Dockery if she thought Outer Banks was paradise on Earth, her response was, "I can't say I believe the whole of the Outer Banks is paradise on Earth but if I could convince my daughters to all move with me and the cost of living were lower, I would move to the area of Buxton in a heartbeat!" However, as someone who also spent a month in Outer Banks, I can confirm it is paradise on Earth.
Story continues below advertisement