FFA Week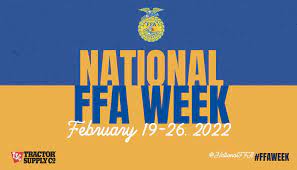 FFA week at Lewis Cass is one week that is a majority of our school's favorite time of year. It is full of various activities such as church, ski trip, roller skating, truck Tuesday, pork chop lunch, tractor day, faculty breakfast, pork chop dinner, and silent worker auction. This week is the week that The National FFA Organization hosts FFA week. I enjoy this week because of the fun activities that separates our school from others. 
Last week, The chapter hosted their annual volleyball tournament that helps bring the spirit to kick off the week. The games consist of teams dressing up in different outfits and playing for the large trophy. On Sunday morning our chapter attended Walton Christian Church, and later drove up to Michigan to go skiing. I wish I could have attended these, but unfortunately had to work. I heard from numerous members that the trip was a success. Monday the members met up at Skate World along with other FFA members in our county for some roller skate fun. Tuesday is what most of the boys in the school look forward to… truck Tuesday. This is where people drive trucks no matter clean, dirty, old, new, large, small, and style to school to be put into a contest. I am excited to see how many different trucks we will have in the parking lot! Wednesday is pork chops during lunch hour. All staff and students may purchase a pork chop for $1 to enjoy during lunch. This gets the word of the club spread around to others that might not have heard about FFA before. Thursday is the day that members get to do some community service by making breakfast for staff members and bus drivers, thanking them for all of their hard work. It will be an early morning, but it is worth it to see smiles on their faces. Thursday is also the day that students drive their tractors to school, which can be interesting when they all park in the row. Friday is the day that the FFA prepares for Saturday which is the Pork chop dinner and silent worker auction. This starts by members arriving early to cook, and set up the meals. From 5-7 is when the drive through meals are being distributed. FFA week at Lewis Cass has had many traditions, and have still kept with them over the years.
My favorite part of FFA is doing all of the activities, and planning for the week. Besides the week of the county fair, this week is one of the largest activities of the whole year. My favorite part of the week is serving the dinners on Saturday because some families do not receive warm delicious meals often during the winter months. 
In conclusion, FFA week is one of the most important weeks for the Lewis Cass FFA. It is filled with fun activities, community service, and memories that we won't forget. I hope that some of you can be involved with the activities that Lewis Cass FFA puts on for the school.
View Comments (11)