My Christmas Traditions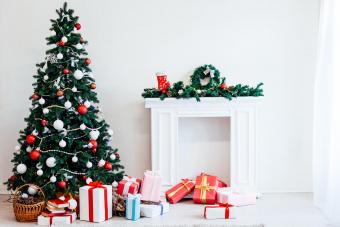 The holidays are always a fun time of year, and nearly everyone looks forward to the time of the year where Christmas music plays on the radio and stores smell like cinnamon scented pinecones. Everyone has adopted many different ways to celebrate the holidays at the end of the year, regardless of religion. My family, like many this holiday season, will be celebrating Christmas, and I'd like to share some of my favorite holiday traditions.
To start off the holiday season, my family always buys a real Christmas tree within a week of Thanksgiving ending. This year, we bought one from a family owned business in Logansport the day after Thanksgiving. It's always exciting to pick out a Christmas tree, as it adds an extra layer of excitement to an already exciting holiday. There's always so many different choices, and sometimes it can be hard to decide which tree is the 'perfect' tree.
After we bring our tree home and get it set up, we usually let it sit for a day so all the branches will settle. I'm not sure if this is a necessary step, but it's something that my family always does, regardless of if the tree is real or fake. Once the tree has settled for a day or so, it becomes time to decorate it. Decorating the tree is usually one of my favorite parts of Christmas because there's so many different ways you could decorate it. My younger cousins always help hang ornaments, so tree decorating also brings the whole family together. In addition to decorating our tree at our house, my grandparents always invite my family to decorate their Christmas trees. They usually have two or three trees, so there's always something for everyone to do.
A few other yearly traditions that involve decorating for Christmas are hanging stockings and setting up a Christmas village. The stockings are always fun to see hanging up together, and really remind me how much family means to me. I enjoy setting up a Christmas themed village because of all the different buildings and people that are part of it. Sometimes it's fun to create little backstories for every person in the village, even though they aren't real people.
While it's not necessarily a tradition, one of my favorite things to do around the holidays is wrapping gifts. I find it really fun, and it's always so easy to get lost in the rhythm of folding, cutting, and taping paper. Plus, there's so many fun ways you can wrap presents and so many fun stickers and bows you can add on after in order to customize each present.
On Christmas Eve, my family always dresses up nicely and attends a candlelight service at our church. This is one of my favorite parts of Christmas, because it's important to celebrate and remember the true meaning of Christmas, and the candles are always very pretty to see.
On Christmas morning my family wakes up to open presents, and then afterwards we always go to my grandparents house for a breakfast of biscuits and gravy, and then we open gifts my grandparents got us. I always enjoy seeing my grandparents and I like the fact that we always have the same thing for breakfast every year.
After Christmas has ended, we take our time taking down our decorations. This is always a bittersweet time because Christmas has so many positive memories, but at the same time everyone is a little over it and ready to move on.
To end the year, all of my cousins stay at my grandparents house for New Year's. It's always fun to ring in the new year with my group of cousins, and I enjoy having things that are a yearly tradition. On New Year's Day we always have corned beef and cabbage for lunch. While it's not my favorite thing, my family always says it's supposed to bring good luck in the year to come.
Overall, my family has several different traditions that we follow through with every holiday season, and it really makes a special time of the year even more special.
View Comments (6)